You just got Starlink and you're asking if can you travel with Starlink. 
Whether you're going on holiday or want to work in a different refreshing environment away from home, you're better off knowing you have reliable Starlink internet anywhere you go. 
Starlink has excellent options to help you move with Starlink service and access Starlink travel internet anywhere you go. 
How? Let's explore how you can travel with Starlink Internet anywhere. 
Table of Contents
Can You Get Starlink Internet Anywhere?
Space X launched Starlink as a service for the underserved. 
The FCC's Eighth Broadband Progress Report concluded that 6% of the US population could not access broadband internet services with decent speeds. 
That's 19 million people without access to a vital factor of production in today's times. 
The same report found that nearly 25% of the population in rural America could not access reliable internet. 
Globally, the combined numbers could be astronomical. 
That premise makes sense for Starlink to avail Starlink internet anywhere. 
Ideally, you can get Starlink Internet anywhere with Starlink coverage. The best way to check covered areas is to go to the Starlink Availability menu on the Starlink App.
Currently, Starlink has Starlink RV(ROAM), Starlink Maritime, and Starlink Residential with portability. These plans enable you to access Starlink's internet anywhere. 
Starlink has 3,400 operational satellites in low-earth orbit.
 These are enough to cover large parts of the US, parts of Australia, South America, and a section of Africa. 
About 400 more are currently en route into their operational orbit. 
Space X aims to get 30,000 satellites in low-earth orbit to provide global internet coverage. 
The 30,000 satellites in space will be vital for strong, reliable, low-latency, high-speed Starlink internet. Your satellite dish will get signals no matter where you are. 
Can You Travel with Starlink
Anything can happen in transit. You have a family to talk to, deadlines to beat, and updates to make.
 Therefore, having reliable internet as you travel becomes a need more than a luxury. However, it can be hard when coverage is not guaranteed. Still, there are options. 
Starlink on Road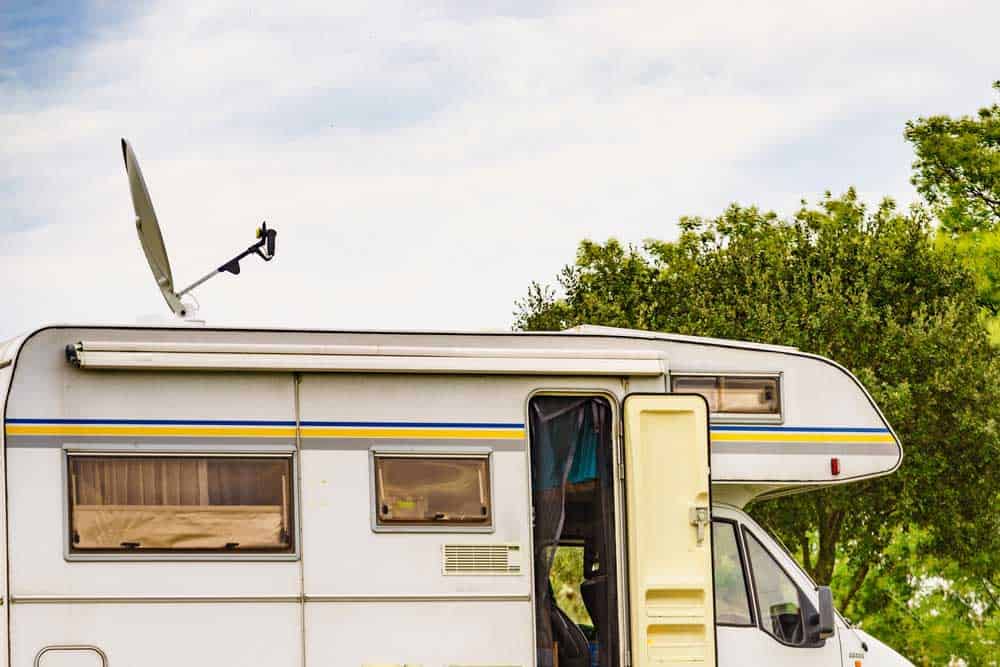 RV with Satellite in a remote location on the road
Starlink RV or Starlink ROAM is a plan that lets you access Starlink Internet as you travel on the road.
 It comes with a standard Starlink kit or the premium High-Performance Starlink Rectangular dish. 
Here are some Starlink RV technical details. 
| | |
| --- | --- |
| Equipment  | $599 |
| Monthly charges | $135 |
| Download speed | 5-200 Mbps |
| Upload speed | 2-10 Mbps |
| Latency | 20-40 ms |
Why You Should Get Starlink RV
Firstly, Starlink RV has an edge over Starlink Residential. You are not put on a waiting list when you subscribe to Starlink RV. 
Unlike Starlink Residential, which has a waiting list of pending pre-orders, you get a Starlink RV kit immediately. 
Although you will pay the $135 monthly fee, you will get expedited service, and you can travel as soon as you set up the Starlink RV kit. 
Furthermore, Starlink RV speeds vary. The above table indicates rated speeds. However, the tested speeds are slightly better.
 For example, the tested download speed can reach 220 Mbps. Tested upload speeds are between 5 and 10 Mbps. However, the tested latency is higher at 30-100 ms. 
The final reason you might consider Starlink RV is you don't get data caps.
 You can experience high-speed Starlink internet anywhere with coverage without worrying about a speed limit. 
Starlink RV comes in two packages: RV with the rectangular dish and RV with a flat high-performance dish. 
Here are the differences. 
| | | |
| --- | --- | --- |
| Features | RV with rectangular dish | RV with flat high-performance dish |
| Equipment cost | $599 | $2500 |
| Monthly charges | $135 | $135 |
| In-motion usage capability | Only for stationary use | You can use in motion |
| Download speed | 50-200 Mbps | Improved speed of 100-350 Mbps |
| Upload speed | 2-10 Mbps | 10-25 Mbps |
| Latency | 20-40 Mbps | Below 20 ms.  |
Starlink RV Disadvantages
Starlink RV's primary disadvantage is priority service. Unlike Residential or Residential with portability, you never get priority speeds. 
You might get fast speeds but will get reduced speeds if bandwidth goes down. 
Starlink in International Waters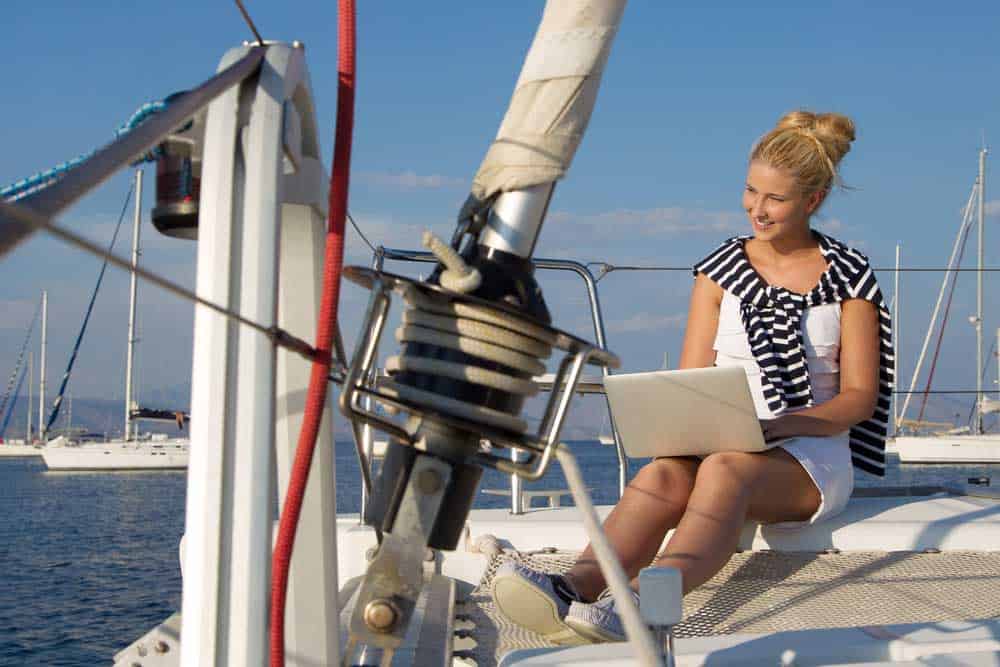 Women accessing Internet on a boat
If you are constantly on the open seas yet want a reliable internet connection, you can get Starlink Maritime. 
Starlink Maritime is a Starlink internet plan that provides download speeds between 100 and 220 Mbps.
 Upload speeds oscillated between 10-40 Mbps with a less than 99 ms latency. 
However, it comes at a $5,000 cost. Given the sensitive nature of the environment you'd be in, the equipment will cost you $10,000. 
Despite the costs, one of Starlink Maritime's main advantages is in-motion internet access. 
In-motion access lets you experience high internet speeds even when you're on the move. 
Starlink Air
You can travel with Starlink by air using the Starlink Aviation plan. It gives you the luxury of accessing Starlink internet even as you fly. 
As you can guess, the costs are on the exclusive end. 
Starlink Aviation subscribers pay an upfront equipment fee of $150,000, a $5000 pre-order fee, and monthly charges between $12,000 and $25,000. 
Starlink Aviation gets you high in-motion download and upload speeds and 20 ms latency.
Starlink is already taking pre-orders for the service to launch in 2023. 
Can I Move My Starlink Service?
Satellite dish in a remote location
Starlink gives you the option to move your Starlink service. 
Starlink Residential with Portability is a service that gives you Starlink Residential speeds but with an option to move to different locations within your continent where Starlink has coverage. 
However, it comes with a few trade-offs. 
First, you have to pay the $599 upfront equipment fee. Additionally, you'll pay $90-$120 monthly, depending on the final destination.
 The monthly cost is added to a $25 charge whenever you move. 
Furthermore, you fall off the prioritization list whenever you move from your registered residential address. 
You'll regain priority service once you are back at your original address. 
Here's how you can enable Portability on Starlink Residential using Starlink on the web. 
You cannot enable portability Starlink Residential "Portability' using the Starlink app.
Go to Starlink's website on your computer browser. 
Log in to your account.
Go to MY ACCOUNT. 
Proceed to MANAGE SERVICE OPTIONS.
Click ADD PORTABILITY.
You can now use the Starlink app to check whether Portability is active. 
On the app, go to Settings.
Proceed to Advanced. 
Go to Debug Data
Check for Roaming>True
If the app shows TRUE, portability is on. 
Starlink Residential With Portability Travel Tips
You should turn on Portability before leaving your registered residential address.
Additionally, remember to check Starlink Availability to see whether your final destination has Starlink service and whether the capacity is high or low. High-capacity areas experience faster speeds and lower latency than low-capacity areas. 
Finally, Starlink can change your registered residential address to the destination address if you stay in Portability mode for more than two months for more than two billing cycles.
Can I Use Starlink Internet Anywhere?
Satellite Internet access in low cell signal coverage areas
Ideally, you can use Starlink Internet anywhere. 
One of its biggest appeals is that you use Starlink Internet in remote areas where cell phone coverage is practically unavailable. 
However, there are limitations. 
Service Availability
You can use Starlink internet even in rural areas. However, you are not guaranteed service everywhere you go. 
There might be dish-to-satellite connection problems. 
Also, too many current users may be using the priority service during peak hours, reducing the quality of service. 
Weather changes
There will be a connection issue every time there is bad weather. Heavy rain, strong wind, or heavy snow compromises clear signal.
 Starlink needs calm weather and clear skies to get the best satellite reception. 
Power supply and equipment
Power supply might affect traveling with Starlink. 
Ensure you have power equipment for the different fixtures in different destinations. 
Also, pack a portable power source every time you travel with Starlink.
Conclusion
Keeping up with a highly mobile and digital world needs constant reliable internet connection everywhere. 
Starlink Internet provides practical options that cover you anywhere as you travel.