Cricket hotspot plans offer you a great way to save on mobile data. It offers two main plans that are pocket friendly and still guarantee decent speed and reliability. 
But can you depend on it as your sole home internet data?
We will show you everything you may want to know about Cricket wireless mobile plans and if it is worth your money.
Table of Contents
How Much Are Cricket Plans?
Cricket has two plans, including Unlimited + 15GB Mobile Hotspot and Unlimited. 
Unlimited + 15GB Hotspot Plan
This plan includes a hotspot at $60 with no extra cost. You must use your phone as a hotspot device or a dedicated mobile hotspot device. 
15 GB is the highest data allowance. However, you can use MyCricketApp on your phone to purchase an extra 15 GB of data at $10. 
Unlimited + 15 GB Mobile Hotspot also offers other perks, including:
Unlimited premium data – this does not have depolarization or throttling
HBO Max – offer add-ons
150 GB with Cloud Storage
Unlimited Plan
This is the basic option. You must purchase a monthly $10 add-on to get 10GB of hotspots. This is enough data for around 20 hrs of streaming SD video. 
You purchase this data via the MyCricket app on your phone, and the process is very simple. 
On MyCricket App, under the "Manage" feature, click the "$10/m Mobile Hotspot" followed by "$10/m Mobile Hotspot Add-on".
 Select "Once" if you only intend to purchase this for the current billing cycle. If it is something you will need every month, select "Monthly." 
It doesn't include the high-end perk and is relatively cheaper. However, you may experience reduced speed during heavy network congestion. 
We may recommend it if saving is a priority to you over perks. 
Starlink Simply Data Plan
Starlink also offers a "Simply" data plan which you can use to pair the Turbo Hotspot 2 ( company-dedicated hotspot device). The plans include:
20GB Simply Data – $35/mo.
100GB Simply Data – $55/mo
How Does Cricket Hotspot Work?
To connect to home internet, you will need cable infrastructure that you run through a WiFi modem or a router network. 
Once you set the WiFi, you can connect your device and access the network using the cable plan. 
Cricket hotspots also work similarly, with just a few differences. To begin with, no router or modem is needed. 
You create WiFi via your phone or a dedicated mobile hotspot where you can connect your devices. 
You must sign in to one of Cricket's hotspot plans to access the network. Then enable your phone's WiFi hotspot, and that is it. 
You can now connect your devices at home or on the go.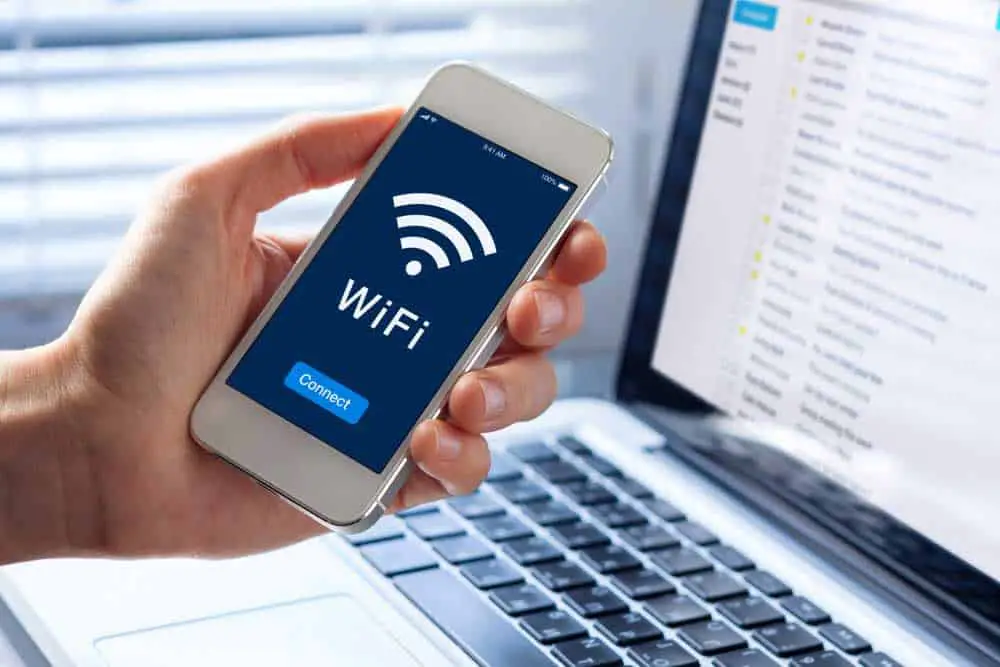 WiFi symbol on a smartphone
Why You Need a Dedicated Mobile Hotspot Device
You can use your phone for tethering, which is very convenient since you won't buy an extra device. 
So, why would you need a dedicated hotspot device for Cricket Internet? 
A dedicated mobile hotspot will be running on its battery, and this will save power. Using the same phone you use for other activities will drain the power quickly. 
Dedicated mobile hotspot devices are relatively faster compared to tethering with your phone. Though tethering with your phone can also offer a good speed, a dedicated mobile hotspot will be a better option. 
A dedicated mobile hotspot tends to offer more data limits compared to phones. 
A hand holding a modem pocket hotspot device
Can You Replace Your Home Internet With Cricket Hotspot?
An average household in the US uses more than 400GB/month. That means even the Simply data plan of 100 GB won't be sufficient.
 Besides, $55, which is the cost of Cricket Simply data, can offer you more data with home internet plans (usually up to 1TB or unlimited). 
You also get better reliability and a faster speed than a mobile plan. 
However, if you live in rural areas with no home internet infrastructure such as cable or fiber, Cricket mobile hotspots can be a great alternative.
 If you don't use a lot of data in your home, Cricket Unlimited + 15 GB Mobile Hotspot can save you money. Home internet can be expensive. 
For instance, AT&T can cost up to $180/mo. That said, if you don't use much data in your home, you would rather go for mobile data than home internet. 
Lastly, we recommend Cricket hotspot plans for those who constantly work while traveling and therefore cannot rely on public WiFi. 
What is the Speed of Cricket Hotspot Plans?
Cricket hotspot plans don't offer a lot of speed.
For a long time, the service has limited users to a maximum download speed of 8 Mbps on compatible 4G LTE. 4G HSPA+ compatible get 4 Mbps. 
However, Cricket Hotspot Plans now include 5G access, and that means the speed cap has been lifted too. 
Whichever the case, it is still much slower than AT&T fiber which can offer up to 5,000 Mbps, or Xfinity which can offer up to 6,000 Mbps. 
Creative glowing 5G backdrop
Will Creating Cricket Tethering Affect Internet Speed?
Cricket Wireless/hotspot offers a fixed allotment of high-speed data. 
After consuming the data, you won't have high-speed internet until the billabong cycle ends.
 The 8 Mbps speed will drop to 128 Kbps for the rest of your billing cycle. 
You will then have access to high-speed data once the billing cycle is complete. 
How fast you will consume the allotted data will depend on how much data you use. 
If you connect multiple devices, the data will finish faster compared to when you connect fewer devices. 
Final Thought
Cricket Hotspot is worth it for personal portable data that can save you cash. However, its slow speed doesn't make it an ideal option for home use.
 If you use it for home streaming, the $10/m add-on will stick and get expensive in the long run. That said, we recommend it to on-the-go professionals.