In your quest to have the best speed and maximum coverage, you might find yourself asking does Eero work with Spectrum. 
Spectrum provides about 300 MBps – 1 Gbps internet speed. Eero expands your coverage to 1500 square feet per device.
Eero works with Spectrum to provide fast speeds over a larger area past dead zones and blind spots.
You'll need an Eero spectrum ethernet cable connection and a configuration change from Gateway to Bridge.
Finally, disable Spectrum WiFi and reset every device in the mesh.
Can you pair Spectrum and Eero to maximize performance and coverage? We'll show you how and tell you why it's worth it. 
What is Spectrum?
Spectrum, as an internet service provider, has been in operation since 1999.
However, its portfolio has other affiliated products that give it prominence, especially in the U.S. 
Spectrum offers an all-around internet, cable TV,  and phone service bouquet. Currently, its subscriber base stands at 32 million across all services. 
Since it offers wired internet and cable services, most of its subscriber base is in busy areas. 
And that raises the main problem. 
Urban areas are notorious for indoor obstructions.
And while Spectrum comfortably gives you about 300 Mbps, you will have deteriorated speed and performance in a multi-device household with plenty of users. 
What Is Eero?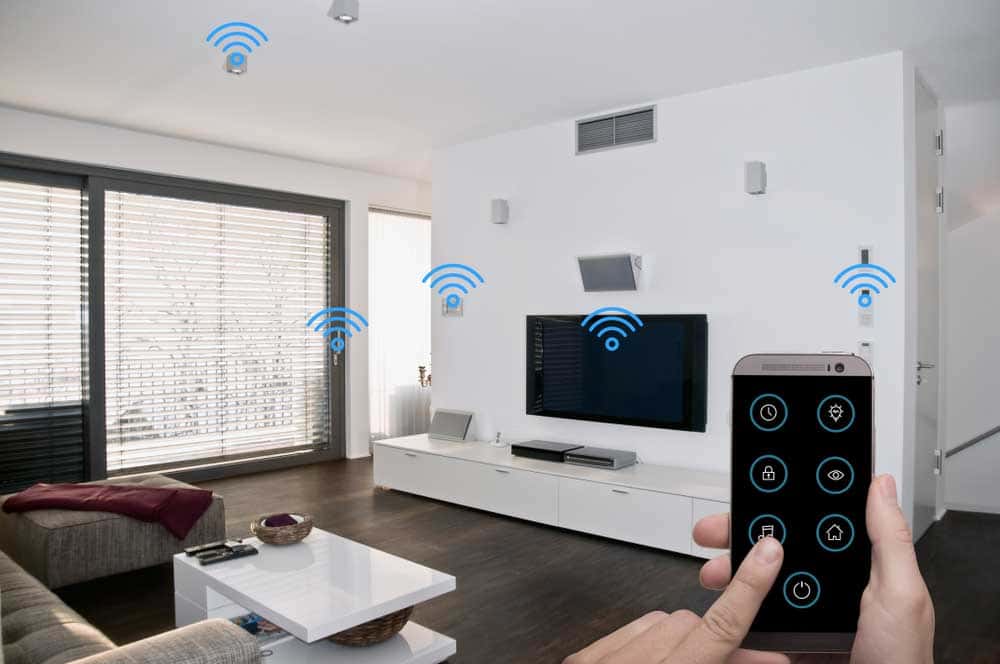 Whole-home internet coverage in a smart home
Eero is a whole-home WiFi solution that uses puck-shaped devices all over the house to eliminate dead zones. 
Each device plugs into a power outlet in a chosen section of the target area.
Technically, Eero devices work like range extenders. 
Range extenders pick up signals from your router and amplify them in designated areas.
However, range extenders might not maintain the same speed as the primary router.
Therefore, what you get in range, you miss out on speed and, consequently, performance. 
The Eero does not have that problem.
Eero access points pick up signals from your primary router and amplify WiFi signals while maintaining the same speed.
Those uncovered areas in the home get to have strong coverage, and you maintain the speed of your network. 
Is Eero Compatible With Spectrum?
Eero comes with Alexa voice control.
Eero is designed to be compatible with plenty of internet service providers. Spectrum, as a major ISP in the US, is a no-brainer. 
Eero is compatible with Spectrum. 
Set your Spectrum in Bridge Mode to avoid technical issues like double NAT. After that, you can complete the Eero Spectrum connection with ethernet cables. 
According to Spectrum, using its routers guarantees you the best speeds.
However, you must know there is a possibility of getting your network activity monitored if you use Spectrum's routers. 
We recommend setting up Spectrum with an upgraded Eero 6+.
Since you're getting exceptional speeds with a higher tier Spectrum plan like Internet Ultra (500 Mbps), you can get up to 450 Mbps in any dead zone or out-of-reach area of your home close to the main router.  
The Eero 6+ also covers at least 1500 square feet per unit. 
In addition to the Eero's security features, such as anti-malware and double security system, you also get Alexa voice control. 
The app is easy to use, and you can set up Eero devices throughout the house in minutes. 
Setting Up Eero With Spectrum
Here's how you can set up Eero to work with Spectrum.
Connect the primary error(written Start) with the Spectrum router. We recommend a CAT6 Ethernet cable.
(Note: Spectrum routers are gateway routers, a combination of a router and modem. We shall solve this issue further in the setup.)
           Connect the Ethernet cable to the Spectrum router's ethernet port and the Eero primary device's WAN port. 
Power on both routers. 
Connect your Spectrum router to a computer.
On your computer, enter the IP address on the router in the browser's address bar. You should land on the router's homepage.
Enter your username and password. The default entries for both fields are 'admin.'
Switch to Bridge mode. This setting disconnects the router and lets you operate using only the modem. You'll find the setting under LAN settings. Look for NAT mode and change it to Bridge. 
Disable the Spectrum modem's WiFi capability. You can turn off the 2.4 and 5 GHz band WiFi. 
Save the changes.
Reset the Spectrum Router to Effect Changes
Unplug the Spectrum router from power. Ensure it's off and not running on battery. 
Plug the modem back into the power source after about 120 seconds. 
Let the Spectrum power up and adjust to the configurations. It should take about 2 minutes. 
Check the status lights to confirm the state of the internet connection.
Reset the Primary Eero Device
Unplug the primary Eero router from power.
Leave it for 2 minutes.
Plug it back into the power source. 
You should have whole-house coverage once the Spectrum router and Eero device are online. 
Troubleshooting Spectrum Eero Connection Problems
You might experience technical hitches during installing and pairing the Eero and Spectrum router. Here are a few steps to take to get you back online. 
Power Cycle The Eero And Spectrum Routers.
We recommend power cycling for all your internet-connected devices if they have technical problems.
Usually, technical problems come from IP sharing-related issues.
Power cycling is a simple and quick procedure to solve IP issues common where there's NAT. 
First, confirm the Spectrum router is on and working correctly. 
Unplug the Eero from power. 
Leave it for 2 minutes.
Plug it back into the power outlet. 
Watch the Eero device's LED indicator turn white and flash. After a minute, the indicator should settle into a white light. It is now online and power-cycled. 
Call Spectrum Support.
Follow the same procedure above for the Spectrum router. If power cycling the Spectrum router doesn't resolve the matter, contact Spectrum support. 
Spectrum support will notify you if there is an outage. Otherwise, they can advise you on how to get back the connection. 
Contact Eero Support
So you have just established your Spectrum router is working fine, yet you're still experiencing connectivity problems. 
Go to the Eero website and lodge a complaint with Eero support. 
The support team might suggest removing the primary Eero device from the app. 
Replace Your Equipment.
If power cycling doesn't work after Spectrum support confirms no outage, you may have faulty equipment. 
First, check the Eero app on your smartphone to see if they are online. 
Ensure the Eero devices are placed in open and flat spots without obstructions, 50 feet apart max. 
Align the Eero devices in one line of sight. However, if that's impossible, ensure they are placed in the most convenient areas.  
Next, confirm the problematic equipment. If the Spectrum router is working, your Eero router is likely defective. 
There's no workaround for a defective device. Order a new one from a trusted dealer. 
Conclusion: Spectrum Works With Eero to Widen Coverage
The Eero Spectrum pairing is compatible.
The Eero devices amplify signals from the Spectrum router to cover areas of your house blocked by walls and dead spots.
And the Eero devices are easy to install and don't degrade the quality or strength of the WiFi signal. 
Every area of the house still gets Spectrum's 300 Mbps.