Is Starlink available in Texas, and if not, when will it expand to the region? This is one of the most common questions we have come across on our site. 
Starlink outshines its competitors when it comes to internet speed and low latency.
For that reason, SpaceX received a huge number of potential subscribers at a rate that the company didn't even expect. 
This article will discuss Starlink in Texas and how you can check for its availability in your area. 
Table of Contents
Can I Get Starlink Internet in Texas?
You can now get Starlink service in Texas, but there is a capacity constraint because of the high volume of subscribers.
Depending on your location within Texas, you may or may not get their service in your area.
How to Confirm Starlink Texas Availability
Starlink is mostly available in the Western parts of Texas.
Most Eastern parts still lack the service, but there is a way to confirm if the service is available no matter where you are. 
Go to starlink.com availability map.
You will see the blue area from the map, which means Starlink is available. A dark blue means the area is on the waitlist. 
Starlink Full Order
You only make a full order if Starlink is available in your area. You must purchase the hardware, which is $599 for residential and RV.
And You will also pay shipping charges and taxes, depending on your location. 
Once you install the service, you will start paying monthly charges of $110. The full order also comes with a 30-days warranty. 
Starlink Waitlist
Starlink operates on a first-come, first-serve policy. So if it's not in your area within Texas, you can book for the service.
When you purchase Starlink service, and it's not yet in your area, the company will put you on a waitlist.
When the coverage reaches your area, you can get the service. 
Remember, Starlink can be in your area, but you don't get the service due to capacity constraints.
Waitlists will make you the next in line as their capacity increases.
You may be put on the waitlist for a few months, and the company will email you when to expect their service. 
You will be waitlisted if you are in Dallas, San Antonio, Austin, and Houston.
Therefore, if you are in this area, you can deposit $99 and be included in the waitlist. Fortunately, you can cancel the pre-order and get a refund. 
Starlink Best Effort
You may find yourself on the waitlist for a longer time than expected.
For instance, you may apply for the service for three months and still don't get the service.
In this case, you should opt for Best Effort. 
If you have some internet alternatives and are unwilling to wait until Starlink opens up capacity in your area, the company will help you get the service through the best effort.
However, this program has its drawbacks.
Though you get the same hardware with this program, the speed and reliability will reduce.
Besides, it is not something you can just sign up for. It is only available in selected locations, and qualification for this program is determined by Starlink company.
You must have a deposit for residential to be eligible. If you are eligible, you will receive an email that you've been selected to receive your best effort. 
When Starlink capacity eventually opens up in your area, you will automatically get upgraded to Standard residential service.
Meaning you will start getting normal Starlink reliability and speed. 
Will Starlink Expand to Your Area?
SpaceX is actively working to expand Starlink coverage. According to the company, they are planning to hit 42,000 satellite constellations by 2023, and with that, they will have global coverage. 
That said, as more and more satellite launches, we expect it to be available throughout Texas.
Generally, every quarter of the year, the capacity opens up. However, the company sometimes updates its availability unexpectedly. 
That said, it remains to be seen how fast Starlink will expand and make it available to users in Texas and other parts of the world.
The company is concerned about losing its potential customers to otter services. Therefore, we expect it to expand faster. 
Starlink RV
RV users in Texas, however, can access Starlink straight away. You can access Starlink RV services anywhere, and it doesn't have a waitlist. 
On the downside, Starlink Residential doesn't offer as much speed.
Besides, you cannot upgrade your RV service to Residential when Starlink capacity opens up at your address.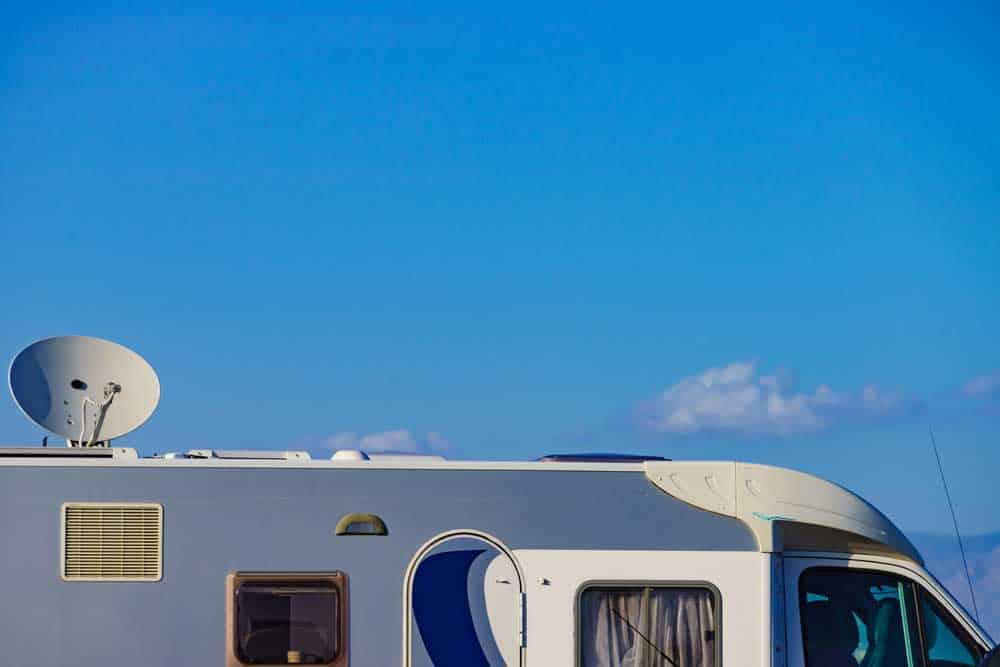 Satellite dish on a camper roof. 
What is Starlik Speed in Texas
Starlink can't just launch enough satellites to cope with the overwhelming demands.
In areas still expanding, like Texas, the internet experiences episodes of congestion due to high numbers of subscribers.
That is why its internet speed varies widely. 
Depending on your location in Texas, expect a Starlink internet download speed of 20-100 Mbps and upload speed of 5-15 Mbps for Residential users.
RV users and Best Effort subscribers will experience a slower speed, especially during network congestion. 
Final Thought
Starlink internet service is already available in most parts of Texas at this time.
However, some parts still lack service, while the company has classified some parts as waitlisted.
You can check if the service is available in your area for a full order or if you can pre-order on their website.
We have given a guide on how to check for availability.
That said, Starlink continually launches satellites and will soon have global coverage. If you can't access the service now, you won't wait for long.