If you have ever inquired about Starlink ACP, you are in the right place. We are going to show you whether Starlink is already in the Federal Communication Commission (FCC) or not.
Affordable Connectivity Program (ACP) is a program to assist families or households who find it hard to afford internet service and devices for their school, healthcare, and workplaces among others. 
It was legalized in Nov. 2021 and already, several wireless internet and landline services are benefiting from this program. So is Starlink one of them? 
Before we answer this, let's learn how ACP works. 
Table of Contents
How ACP Works
As mentioned before, ACP helps households get internet devices for their use and access affordable internet. 
To ensure affordability, ACP offers households the following benefits: 
High-speed internet service discounts of up to $30/mo via participating internet providers.
Qualifying tribal land gets high-speed internet services discounts of up to $75/mo. The company offers this discount via participating internet providers. 
A one-time discount on tablets, laptops of up to $100. However, this comes after you make a payment above $10 but less than $50. 
If you participate in a certain assistance program or have a low income, you are eligible for ACP. 
However, you can only get one service discount per month, and only one device discount is allowed in each household. 
If you are lucky to be using an affordable service that participates in ACP, the discounts can offset your monthly internet cost. 
Is Starlink in ACP?
Unfortunately, Starlink does not participate in ACP, a program that partners with most US internet providers to offer affordable internet for daily use. 
The company also doesn't offer discounts for military members, seniors, among others. 
However, Starlink may offer discounted services in your region for eligible users out of their own capacity.
 As per their terms of service, you may be prompted to confirm you are qualified for the discounts from time to time. 
The company can start and stop the discounted service at their will. If they discontinue the program, standard pricing will apply for subsequent billing cycles. 
Why is Starlink Not in ACP?
There is no clear reason Starlink is not participating in ACP to help users who can't comfortably cope with their ever-increasing costs. 
The company would still get back its money or even make more on top when participating in ACP. 
We can only assume FCC is not ready to offer this service to Starlink because it is still fairly new. 
We can base our assumption on the reason they gave for declining to offer Starlink a $885 subsidy. 
FCC recognized Starlink has real promise for future connectivity. 
However, it's still developing technology for user broadband and the frequently changing charges made it hard to publicly subsidize it. 
Another possibility may be that ACP is still expanding its services. 
They started accepting the environment in December 2021, and therefore it is still new too. 
Starlink Deals and Promotions Now
Starlink doesn't have direct financial help to its users. However, new subscribers can benefit from some of their deals and promotions. When you sign up today, you get:
Unlimited data on their Standard Residential plan.
You don't require a contract when you sign up.
A satisfactory guarantee of 30 days. 
Free WiFi router in the kit. 
How to Earn the Best Deal with Starlink
Starlink services are not that cheap, so one thing you would always strive for when you purchase it is to get the best out of it. You can get the best from this service by:
Position your dish in an area with a clear sight of the sky. The Starlink app will help you position the dish. 
Choose the right plan. For instance, if you use it in a small house where you move from place to place, you better go for a Roam plan than residential to avoid portability fees. 
What is Starlink's Internet Cost?
Though Starlink can be more expensive than most of its competitors, it doesn't charge extra fees as you will get on some services. The charges you should expect are:
Equipment Fee: Starlink charges unavoidable fees of $599 for equipment that applies to their Residential and Roam plans.
 For Starlink business and Maritime plans, you will have to pay $2,500. You may also incur additional $50 shipping charges depending on your location. 
Pre-order charges: You can preorder Starlink equipment in areas where the company hasn't extended its services. You will have to pay a deposit of $99. 
Monthly Charges: After receiving and installing the service, you will start paying a monthly charge of $110 for Residential and $135 for RVs. 
For Business, it will depend on the priority data you choose. 
1TB costs $250 a month, 2TB costs $500 a month and 6TB costs $1,500 a month. 
The only additional charges you may incur are taxes, depending on your state or country. 
You will also have to pay a $25 portability fee if you want to move the Residential Plan from one address to the other.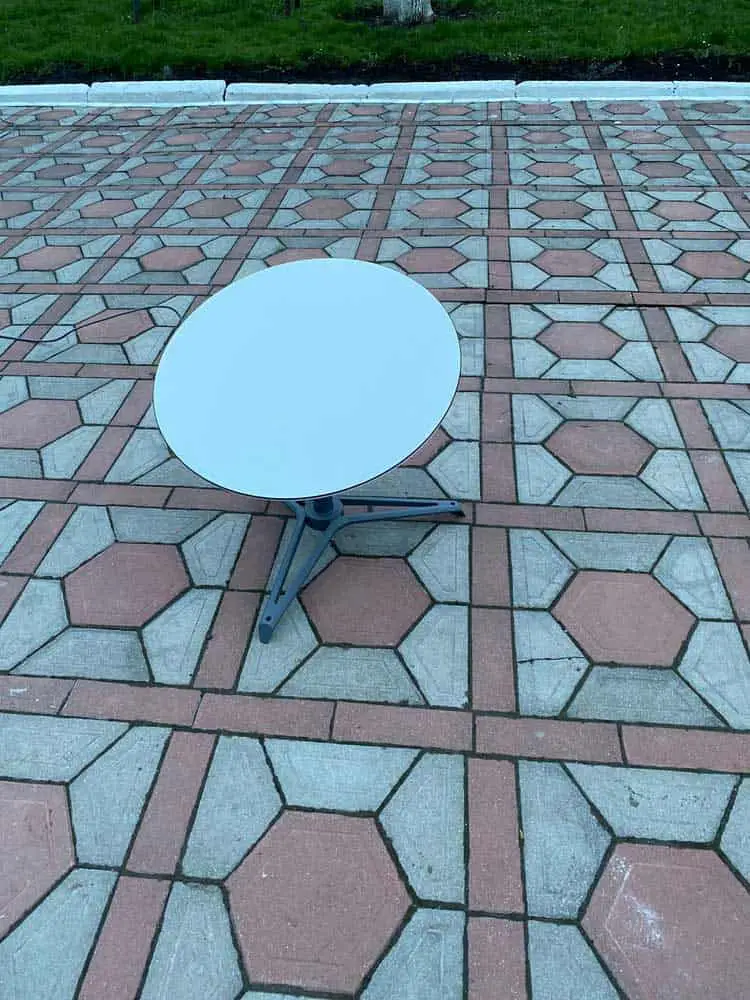 The Starlink dish on the floor. 
Starlink ACP: Final Thought
Starlink is the best satellite internet service you can subscribe to now. The service is expanding at a fast rate and it targets global coverage. 
However, despite its relatively higher pricing compared to its competitors, Starlink is not in ACP. 
ACP can help you get affordable internet and connected devices such as laptops, tablets, and desktop computers. 
Starlink hasn't shown publicly their plan to join the program but we can only hope it happens. It will save low-income subscribers a lot.