Before Space X launched Starlink Internet, these competitors were the only option for most people in remote areas.
Some satellite internet services were slow, while some areas were completely disconnected from reliable internet. 
Starlink Internet has made news as the incoming satellite internet disruptor.
With a promise of 'serving the underserved' with low latency, and high-speed internet, Starlink has already amassed a 1,000,000 subscriber list.
Competitors like Viasat, Oneweb, and Hughesnet might be forced to catch up. 
This article explores Starlink internet alternatives that provide satellite internet.
We have also covered each satellite provider here individually compared to Starlink.
Table of Contents
Starlink Overview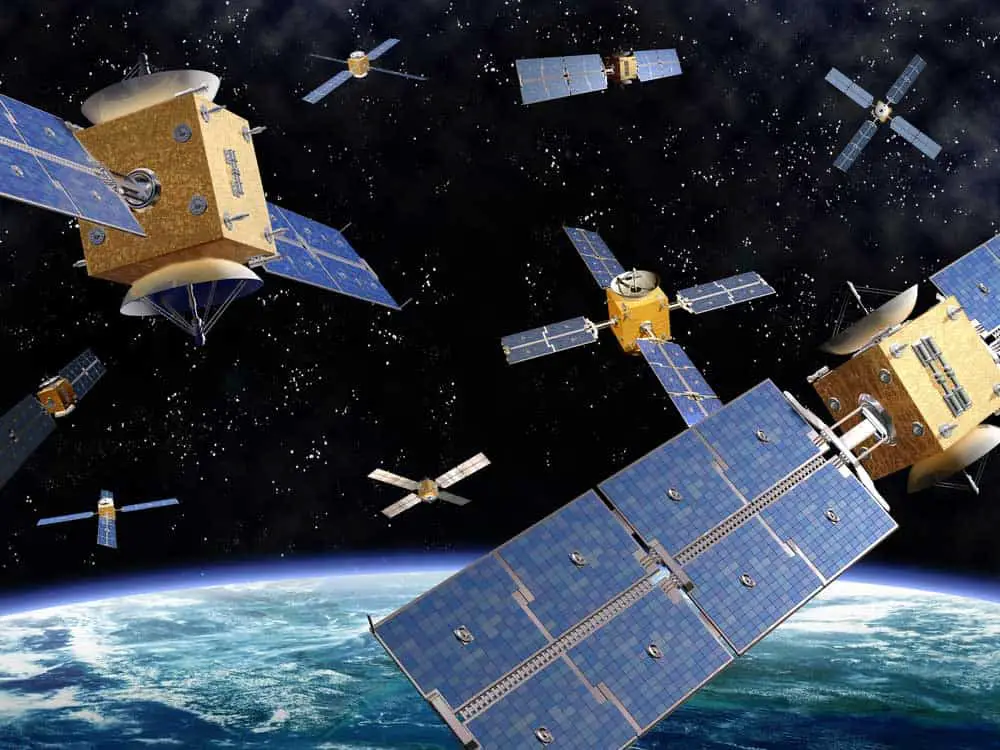 Satellites in orbit close to Earth
Space X's Starlink is a satellite ISP with its sights set on the global market. It has already launched just under 4000 satellites into low-earth orbit to establish a presence in all seven continents.
The satellite provider has ongoing construction for its ground stations in America, Canada, Europe, South America, and Africa. 
With its goal of having over 30,000 satellites in space, it looks set to be the world's go-to solution for fast satellite internet. 
Still, they have to convince subscribers from other ISPs to switch to Starlink. Here are Starlink satellite internet alternatives. 
Starlink Satellite Internet Alternatives
HughesNet
Internet global coverage
With over 1.5 million subscribers, HughesNet is one of the biggest residential and business satellite ISPs.
Its client base extends across North and South America.
Although launched in the 1970s, HughesNet competes directly with Starlink for satellite internet provision. 
Despite HughesNet's wide user base, Starlink overshadows its presence by covering a larger area.
You can compare availability by checking Starlink's availability vs. HughesNet's availability.
Starlink offers between 50-500 Mpbs download and 5-20Mbps upload speeds compared to HughesNet's 25 Mbps download and 3 Mbps upload speeds. 
Cost-wise, HughesNet might retain subscribers with its $65-$160 price point. Starlink plans cost between $99-$500 for the residential and business plans. 
Given the nature of most data rate-heavy online activities, HughesNet faces heavy competition from Starlink based on latency and data capping. 
Its 650ms average latency cannot compete with Starlink's 25ms, especially for online data rate-heavy applications.
Furthermore, HughesNet implements data caps and still uses GEO satellites. 
OneWeb
OneWeb may be one of Starlink's fiercest competitors. 
Not only does Oneweb use low-earth orbit satellites, but its satellites also travel in a pole-to-pole orbital pattern.
It currently has 462 out of a planned 648 satellites in space.
That means, like Starlink, it can provide stable low-latency satellite internet to its subscribers and cover a large area.
It is also gearing up to provide internet to businesses, marine fleets, airlines, luxury yachting, and freight trains.
These offerings would directly compete with Starlink Business, Maritime, Aviation, and Starlink RV. 
Starlink and Oneweb have different pricing models that might influence subscribers to pick Oneweb as a Starlink internet alternative. 
Starlink plans retail from $99 monthly compared to Oneweb's $50 for the base plan, $100 for the Pro Plan, and $150 for the advanced option. 
Speed-wise, Oneweb's transfer rates are also favorable. The ISP provides 165 Mbps download speed, 30 Mbps upload, and 45ms latency as of April 2021.
Oneweb's speed and latency might match Starlink's once it completes its planned satellite launch. 
Here's where both ISP draw major battle lines. OneWeb is already using laser satellites. 
Space X has only recently gotten approvals to launch its laser-enabled V2 satellites that will reduce ground station reliance to improve speed and latency. 
Viasat
Starlink vs. Viasat might be more than just a competition. It qualifies as a rivalry. 
In May 2021, Viasat filed an official complaint to the FCC to stop Starlink from launching more satellites into low earth orbit.
Viasat claimed Starlink was congesting orbit and there needed to be an environmental impact assessment. 
Truthfully, Viasat also needs low-earth orbit for its satellites to move into orbit.
Currently, Viasat operates four satellites – ViaSat-1, WildBlue1, Anik-F2, and ViaSat-2 – much bigger than Starlink's.
Most of Viasat's subscriber base is still in the US. It has a minimal presence in South America, Europe, North Africa, China, and Australia. 
Compared to Starlink speeds, Viasat offers between 12 Mbps and 300 Mbps download speed and 3 Mbps upload speed. 
On top of its $299 hardware fee, Viasat's subscribers also pay between $69.99 to $299.99 monthly.
These charges are lower than Starlink's $599 equipment fee and $110 to $500 monthly costs. 
Unsurprisingly, Starlink dominates Viasat on latency. Viasat's 600,000 subscribers have to make do with 600ms latency speeds. 
However, here's a fun fact. It recently used Space X's Falcon Heavy rocket to successfully launch its Viasat-3 satellite to improve broadband service.
Viasat-3 can potentially boost Viasat's download speed up to 100 Mbps and reduce latency.
FreedomSat
Have you heard of FreedomSat? It might be one of Starlink's biggest competitors outside the US.
FreedomSat doesn't only compete with Starlink for home internet. It also offers solutions for business clientele. 
Also, it has 20 years of experience offering satellite internet to the military in areas such as Afghanistan and Iraq. 
Starlink might work extra hard to pry subscribers from FreedomSat's core base, the UK.
FreedomSat is in South America, the Middle East, and Africa. 
Unlike Starlink, FreedomSat offers data packages.
For example, its  £25 monthly package gives you 10GB priority data with a download speed of 25 Mbps and 6 Mbps upload speed. 
Among its faster options is the Superfast Broadband plan that offers 30 Mbps download speeds.
Each plan has a basic and premium speed. Premium speeds for its Consumer plan can peak at 50 Mbps. 
FreedomSat's plans are tiered and complex. And that's not the only area where Starlink can beat it.
Many of its subscribers would gladly switch to Starlink as an alternative to avoid data capping and experience unlimited data and faster streaming. 
However, FreedomSat bundles VoIP and one static IP address for its business plan subscribers.
This move could maintain its competitiveness over Starlink in key areas. 
Inmarsat
Inmarsat and Starlink compete for military internet.
Following in FreedomSat's footsteps is another British ISP, Inmarsat.
Inmarsat is not in competition with Starlink for its residential clients.
It is among Starlink's satellite internet alternatives for the military and maritime clientele. 
Inmarsat's satellite infrastructure consists of 14 satellites in geo-synchronous Earth, around 22,000 miles in space.
If Starlink competed directly for residential subscribers, Starlink's 4000 LEO satellites would eclipse Inmarsat's. 
Inmarsat deals more with products rather than the Internet. Its Inmarsat IsatPhone Pro 2 Satellite Phone costs about $2000.
And although Starlink might be adding phone functionality soon, the $2000 price point might be too much for Starlink subscribers. 
Latency-wise, Starlink edges out Inmarsat. Inmarsat has a 900 ms compared to Starlink's 20-40 ms.

Although they are not in competition for similar clients, Inmarsat's recent acquisition by Viasat might change the dynamic. 
FAQ:
Does AT&T offer satellite internet?
AT&T provides internet and communication services in large parts of the US.
However, its focus is providing internet through cable infrastructure, not satellites. 
What is Project Kuiper?
Project Kuiper is a yet-to-be-unveiled satellite internet service by Amazon.
When it launches between 2026 and 2029, it will be one of Starlink's biggest competitors on a global level. 
Does Starlink have competitors offering fiber optic internet services?
Since Starlink focuses on serving clients in remote locations, it is not in direct competition with ISPs providing fiber optic internet.
However, Starlink will compete directly with ISPs such as CenturyLink and Cox as it expands to urban and busier areas. 
Conclusion: Who is Starlink's Best Alternative?
From the comparisons, it seems Starlink will take over the satellite internet provision business, especially after it launches its 30,000+ satellites as planned.
In the meantime, HughesNet, Oneweb, and Viasat remain the most reliable Starlink internet alternatives. 
Consider checking out other fiber-based alternatives if you live in areas with ground infrastructure.