This Starlink router vs. Nighthawk side-by-side should clear any uncertainties if you are looking for a router for Starlink that can increase speed, and range and support multiple devices.
The Starlink router is no slouch. For a standard router, it has great benefits.
However, it might not have some features that could put it high among the best-performing routers like the Nighthawk. 
We'll compare them based on form factor, coverage, wi-fi protocol, cost, and security. 
Form Factor
Design is one of the areas where the Starlink and Nighthawk routers differ completely. 
While Starlink went for a minimalist design, Nighthawk went for a futuristic design. 
Starlink router for satellite internet doesn't have big standout features.
However, its cyber-truck-inspired form gives it a clean-cut look that blends well in any setting.
You do get an LED ring indicating connection status. 
On the other hand, Netgear's Nighthawk has a sharp, edgy design with four antennas sticking out.
The front part looks grill-like, giving it a cool, aggressive look.
It also has LED indicators showing power, Wi-Fi, and Ethernet cable status. 
If you are all about edgy design that stands out, you'll like the Nighthawk router. 
Coverage
The Nighthawk router covers a wider area
The Starlink router has a range of about 150 feet indoors.
It peaks to about 300 feet outdoors. On the other hand, the Nighthawk router has a 2500 square foot range indoors. 
Beamforming antennas make all the difference in range for Starlink vs. Nighthawk.
Unlike the Nighthawk router, the Starlink router doesn't have beamforming antennas. Beamforming antennas amplify signals.
Consequently, they become a vital determinant of where to place a router. 
On that note, some Starlink users complain about their router's range.
More indoor obstruction points mean their router's indoor range is much lower. 
Nighthawk and Starlink router users can boost the coverage using mesh extenders.
Furthermore, you can use a range extender to give you more than 2500 square foot coverage for Nighthawk routers. 
Wi-Fi protocol
Speaking of coverage, Starlink supports 802.11a/b/g/n/ac, while the Nighthawk router supports 802.11ax. 
The IEEE 802.11ax is a modern standard that supports Wi-Fi 6.
Unlike Nighthawk's standards, Starlink router only supports Wi-Fi 5. 
The difference? Nighthawk router gives you a 10 Gbps throughput, compared to Starlink's 1.3 Gbps maximum throughput.
The net result is more speed for the Nighthawk router. 
Operational Frequency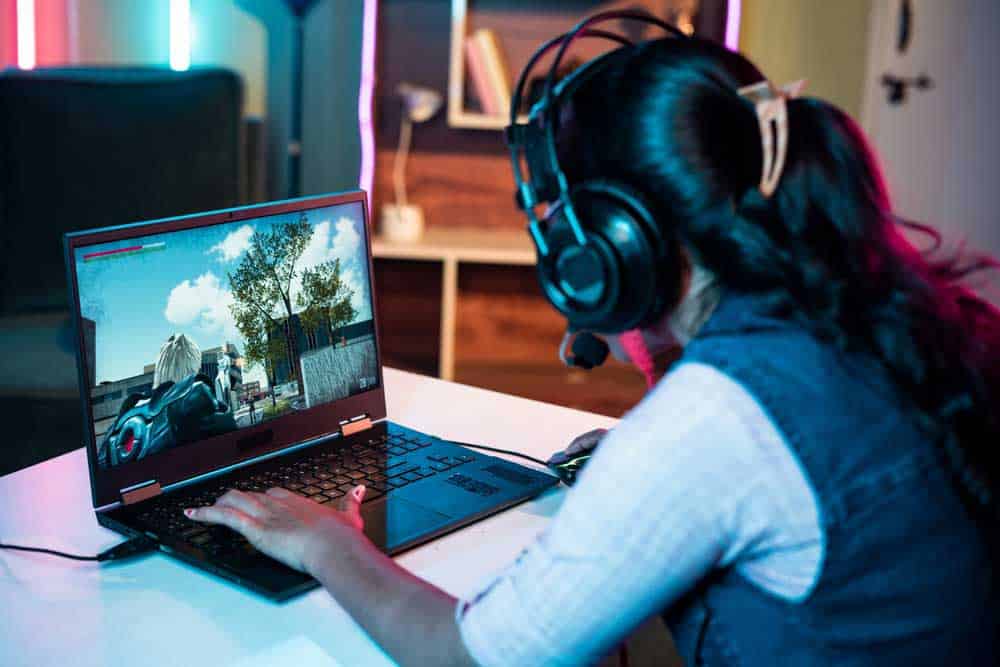 Lag-free gaming is possible with high-frequency tri-band streaming
The Starlink and Nighthawk router support 2.4 and 5 GHz frequencies.
Furthermore, Nighthawk supports 6GHz frequency with a 4.8 Gbps throughput. 
Howeveryou can create a separate network name(SSID) for the 2.4 and 5 GHz frequencies with the Nighthawk router with the Nighthawk router.
Creating separate SSIDs means you can reserve the 2.4 GHZ band for slow devices and the 5 GHZ band for faster devices. 
The Starlink router is MiMo 3 x3 capable.
While it can simultaneously transmit data in three different, Nighthawk can transmit data in 12 different streams.
This difference in the transmission is why some users choose to use a third-party router like Nighthawk with Starlink dish. 
Throughput-heavy applications such as 4k streaming, online gaming, and real-time trading become much easier when data moves in 12 simultaneous streams.  
Ports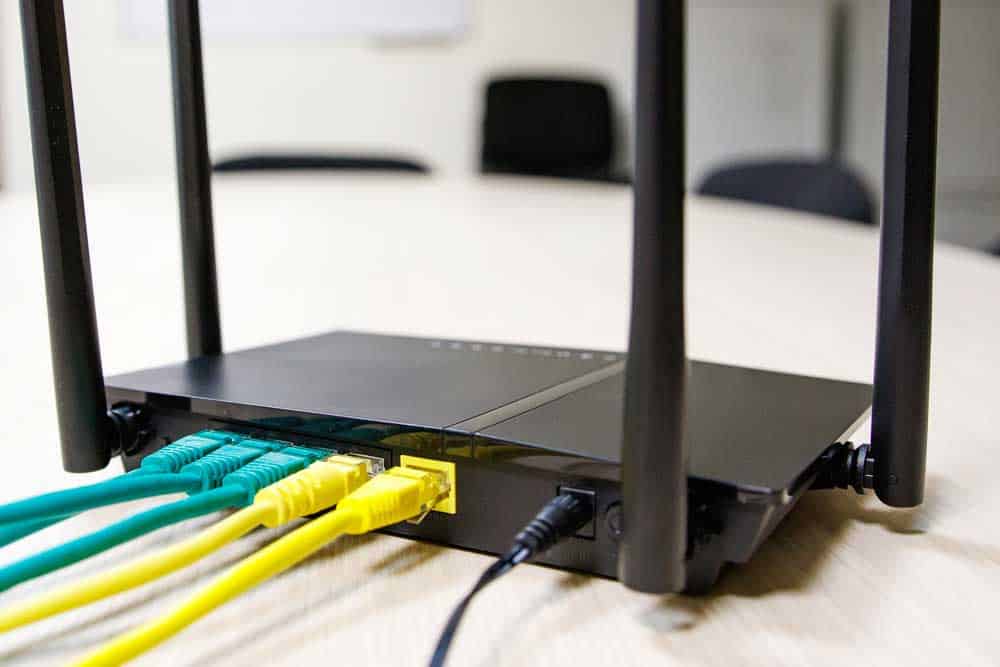 A router showing ports
The Starlink router does not support wired Ethernet connections.
Why? It doesn't come with an Ethernet port. The port was removed in the new square dish. 
With the Starlink router, you must get an Ethernet adapter to have wired connections.
Additionally, you would have to connect a switch or hub to plug more wired devices into the Starlink router. 
On the other hand, the Nighthawk router has four Gigabit Ethernet ports.
This multiport feature allows you to plug in additional devices like TVs and consoles. Moreover, it has one main in-built 2.5 GHZ Ethernet port. 
To top it off, the Nighthawk has two more USB 3.0 High-speed ports.
The Starlink router does not have any USB ports. USB ports enable you to connect peripheral devices such as printers to access them wirelessly. 
Security
Online privacy and data security is a big deal to many users who rely on the internet.
Yet the router can be an access point for malicious cyber attacks. 
On that note, the Starlink router is WPA and WPA2-enabled. WPA2 adds more security protections that aren't available with WPA.
Starlink routers also have firewalls that forbid incoming traffic, making them less vulnerable to external attacks. 
Conversely, the Nighthawk router uses WPA3, an updated Wi-Fi security access protocol. 
Netgear covered all bases to enhance their router's security.
Not only do you get Netgear Armor, but you also get a VPN to keep your online identity and activity discreet.
Also, you get Guest Network and Anti-Malware support. 
Netgear Armor gives you antivirus, anti-phishing, and anti-ransomware protection. 
Parental controls
Parental control keeps children safe online
Unlike Nighthawk routers, the Starlink router doesn't have any parental controls. 
Nighthawk routers have parental controls that address these concerns for parents. 
Online activity monitoring
Online access time control and time limits
Browsing history monitoring and content filter
Member profiles that give every user a unique identity. 
While some of these parental features cost a premium fee, users can try them for 30 days before spending about $70 for an annual subscription. 
If it's a real concern, you can use a third-party router with Starlink. 
Cost
Starlink's router is included in the $499 kit when you sign up for the services. 
The Nighthawk router will cost you about $200.
However, you can always get a different router since Nighthawk has a full range. 
Compatibility
Starlink might be carving itself a safe market segment. Their router is not compatible with other internet service providers.
Only Starlink satellite internet users can use it. 
Comparatively, Nighthawk users make great third-party routers. You can use them with other satellite providers. 
You might go as far as using them as a Wi-Fi extender. 
Here's a summary of all the Starlink vs. Nighthawk features.
Feature
Starlink router 
Nighthawk router
Design
Clean-cut & minimalist
Futuristic, sharp edges
Coverage
150 feet indoor range
300 Feet outdoor range
2500 square foot coverage
Wi-Fi support
802.11a/b/g/n/ac Wi-Fi 5
802.11ax Wi-Fi 6
Frequency support
2.4, 5 GHz
3 simultaneous stream transmission
2.4, 5, 6 GHz
12 simultaneous stream transmission
Ports
No inbuilt Ethernet port
No USB
1 main 2.5 GHz Ethernet port
4x Ethernet ports
2x USB 3.0 ports
Security
WPA and WPA2-enabledFirewalls
WPA3 enabled
Netgear Armor(anti-virus, anti-malware, anti-phishing)
Guest network support
VPN service
Parental control
No special parental control
Content filters
Time control
Activity monitoring
Browsing history checks
Cost
Comes with the $599 kit
$200
Compatibility
Non-compatible with other ISPs
Compatible with other ISPs
FAQ
Can I use both routers at the same time?
The only viable situation where you can use Starlink and Nighthawk routers simultaneously is when one is a main router and another is an access point.
Otherwise, you cannot use both with the same ISP. You'd have to be subscribed to two ISPs. 
How can you use the router to increase network speed?
Technically you cannot use the router to increase network speed.
However, you can decrease congestion on the Wi-Fi by connecting some devices to your multiport router using an Ethernet cable. 
Final Thoughts on Starlink Router Vs. Nighthawk
Starlink is still in its early stages, even with the progress it has made.
The Starlink router is an excellent piece of hardware that will serve you well.
However, if you use other ISPs or need a third-party router to bypass some Starlink rules, you cannot go wrong with Nighthawk routers.