The following article compares Xplornet vs Starlink. SpaceX and Starlink have been trending for the past two years.
 Partially for their ties to Elon Musk but mostly because of the technological strides they've made over the years. 
Starlink endeavors to connect more people to the internet – especially those who don't have access to fast, reliable cable-based internet. 
This includes countries outside of the US, like Canada.
Xplornet (Xplore Inc) has been supplying the rural areas of Canada with broadband internet for many years. 
But should you consider switching over to Starlink? The guide will answer this question. 
Table of Contents
Xplornet vs. Starlink: Comparison Table
Items
Xplornet
Starlink
Service Types
Mobile, Satellite Internet, Fibre, and WiMax
High-Speed Satellite Internet
Year Company Was Established
2004 (Barrett Enterprises/ Barrett Xplore Inc)
2002 (SpaceX)
Average Download Speeds
25 to 1024 Mbps+ (Service/Product dependent)
50 to 500 Mbps (Plan Dependent)
Average Upload Speeds
1 to 1024 Mbps+ (Service/Product Dependant)
2 to 20 Mbps
Number of Packages/Options
4+
5+
Hardware Costs
$6 (or Included with Monthly Subscription costs)
$599 to $2500 (Plan/Package Dependent)
Monthly Subscription Costs
$49.99 to $119.99
$120 to $500 (Plan/Package Dependant)
Portability?
Yes (Mobile Plan Available)
Yes (Starlink Roam and Mobility)
Data Caps?
Plan Dependant

(200GB to 250GB for capped satellite internet plans)
None (1TB to 6TB previously) 
Waiting List?
No
Yes
Can Be Self Installed
Installation for most packages requires the expertise of a certified technician 
Residential Package Can be Self Installed
Availability
Canada
Australia, Northern America, Northern parts of South America, Japan, West Europe, etc 
Satellite Dish in Cityscape Backdrop
Xplornet vs. Starlink: An Overview   
Over the last few years, Xplornet has undergone multiple name changes. When founded in 2004, it went under the name Barrett Enterprises. 
Its executives and marketing team decided to rebrand it to Xplornet Communications in 2011. However, this was not the last time. 
The company rebranded once again in September 2022. This time it changed its name to Xplore Inc.
Since most people are more familiar with the Xplornet name, we'll refer to the company as that in the rest of the article. 
Xplornet primarily focuses on delivering high-speed internet access to the rural parts of Canada. It offers mobile broadband, wireless (WiMax), fiber, and satellite internet.
This gives its customers a wide range of options. Xplornet uses capacity from Viasat's VisSat-2  to deliver satellite internet.
 It has plans to use the capacity acquired from Hughes/EchoStars Jupiter 3 satellite to increase the availability and speeds of its satellite packages.
This is to primarily contend against SpaceX's Starlink.
Although Xplornet has dominated the rural Canadian broadband market for years, Starlink is globally available and promises faster and more reliable speeds.
Although Starlink has good marketing and impressive technology, its biggest weakness is its lack of good customer support.       
SpaceX canceled its plans to introduce high-speed data caps to residential packages. However, it does encourage its customers to follow its fair-use policy. 
One of Starlink's biggest weaknesses is its limited customer support. Xplornet also understands the Canadian market better.
Telecommunications Tower
Coverage
As we've previously mentioned, Xplornet's main focus is rural Canada. As such, its services are inaccessible to anyone outside of the country.
Regardless, Canada is a large complex country with intricate internet requirements.
Xplornet offers gigabit per second fiber internet in seven of thirteen Canadian provinces.
 It plans to expand this capacity by 2025 by implementing more scalable infrastructure for fiber and 5G internet.
Ultimately, what Xplornet plans are available to you will depend on which part of Canada you're in. 
Contrastingly, SpaceX has a near-global reach. It covers most of Canada and hopes to increase its availability in the coming years. 
However, while Starlink's Coverage map indicates that it's widely accessible in Canada, potential customers are not completely safe from SpaceX's notorious waiting list.
 Furthermore, Starlink's performance isn't consistent throughout the country.
Hardware Costs
Each Xplornet package and plan requires the customer to pay an upfront fee of 59.99 CAD (99 CAD for equipment and installation).
Equipment and installation costs and the monthly subscription are usually included in this fee,
Starlink's equipment costs are based on which plan you choose and your hardware requirements.
For instance, Starlink's business plan can cost you as little as $250 or as much as $1500 in monthly subscription fees.

Of course, this fee is dependent on your business requirements.
The Business plan also offers 6TB of high-priority data ensuring that you're the first to receive the fastest speeds during on-peak hours.
The business plan's equipment can cost you as much as $2,500, excluding shipment costs.
While it's possible to self-install your equipment for the residential plan, SpaceX recommends hiring a certified professional for all other plans.
This can cost you an additional $99. In terms of hardware costs, Xplornets options are far more affordable.     
Man Installing Satellite Receiver 
Performance
Thanks to low-orbit satellite constellations, Starlink outperforms many of its competitors.
According to SpaceX, Starlink's Business Plan can reach up to 500 Mbps. On the other hand, the residential plan can reach as much as 200 Mbps.
Because Xplornet offers a diverse set of internet connection types, they vary in speed and stability.
Its satellite service offers download speeds of up to 25 Mbps and upload speeds of 1 Mbps (maximum).
Before you reach your data cap/quota, Xplornet reduces speeds to 412 Kbps.
Once again, Xplornet features rural 5G and Fibre networks that deliver gigabit speeds. Unfortunately, they're not widely available yet.
In the meantime, customers can use Xplorenet's LTE/4G networks as an alternative. It can deliver speeds as fast as 50 Mbps.
Subscription Costs
First, let's look at Xplornet's most widely available plans. They are as follows: 
LTE 25 Unlimited: Maximum speeds of 25 Mbps. Features a starting monthly cost of 49.99 CAD for the first year. No data caps.
LTE 50 Unlimited: Maximum speeds of 50 Mbps. Features a starting monthly cost of 59.99 CAD. No data caps.
Satellite 250: Maximum speeds of up to 25 Mbps. Features a monthly cost of 79.99 CAD for the first year and then 109.99 CAD afterward. Xplornet throttles your data speeds once you reach a monthly quota of 250GB. 
Satellite 350:  Maximum speeds of up to 25 Mbps. Features a monthly cost of 79.99 CAD for the first year and then 119.99 CAD thereafter. Xplornet throttles your data speeds once you reach a monthly quota of 350GB.      
The subscription costs for Starlink's monthly plans are as follows:
Residential: Starlink's standard plan starts at 120 USD.
Roam Global (FKA RV): Starlink's mobile/recreational vehicle plan allows you to access Starlink's satellite internet while traveling across the world. Its monthly fee starts at $200.
Roam Regional: Functions similarly to the Romal Global plan but is limited to a region and features a data amount of 1TB. Its subscription costs 150 USD monthly.   
Business (1TB/2TB/6TB): Starlink's 1TB/2TB/6TB priority plan. SpaceX charges a monthly subscription of 250 USD/500 USD/1500 USD.
Aviation: Satellite internet for plans. SpaceX charges $12,000 for a monthly subscription.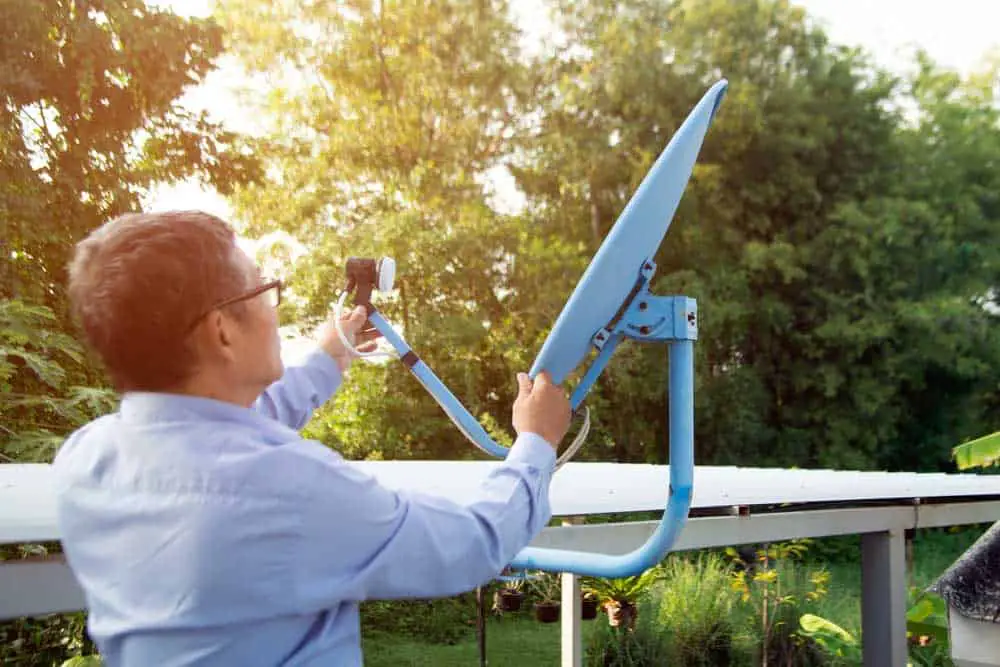 Aging Man Self-Installing Satellite
Xplornet vs. Starlink: Conclusion
The above guide compares Xplornet vs Starlink. Please note that some of the information we've included in this guide is subject to change.
If you want to get the most up-to-date pricing and speed figures, please visit each service provider's website.
Competition drives innovation. It seems that Starlink's presence in Canada has already forced Xplornet to develop and deliver more improved products and services.
Starlink is undeniably more trendy than Xplore/Xplornet.
However, we must not underestimate the power of brand loyalty. Furthermore, Starlink is still quite expensive for the average consumer. 
Regardless, both Xplornet and Starlink's offerings have ensured that people living in rural Canada aren't left in the dark.