If we are being honest, there's a reason to bypass the Starlink router.
SpaceX Starlink routers might provide fast download and upload speeds, but they can be a headache.
That's why you need to bypass a Starlink router. 
In a race for more speed and control, third-party routers that work with Starlink are a godsend.
All you will need is a Starlink dish (either circular or rectangular) and an Ethernet cable and adapter.
Enable bridge mode, and the bypass is complete. 
Would you like to find out how to bypass a Starlink router? Stick around. 
Table of Contents
How to Bypass Starlink Router
Why Bypass Starlink Router?
Before starting the bypass process for a Starlink router, ask yourself why.
Most people bypass the Starlink router to use their own. 
But why? Doesn't the Starlink router provide great speeds? 
It does. Unfortunately, it has limited capabilities. 
Most users want total control over their router settings. So they will opt for a third-party router.
That way, they get Starlink speeds and personal preference control levels. 
Unlike third-party routers, Starlink routers lack onboard controls that allow you to customize your router. 
Also, up-to-date third-party routers come with Wi-Fi 6 (802.11ax). 
What's Wi-Fi 6, you ask? Wi-Fi 6 is way faster than what Starlink routers use (Wi-Fi 5 802.11 ac). It offers a link rate of 433-6933 Mbit/sec.
For a regular user, Wi-Fi 5 is okay. But high-demand users want super speeds, making them opt for other routers.
Wi-Fi 6 pushes the link rate to the 574-9608 Mbit/sec range. 
Furthermore, Starlink routers have a thinner coverage range. Sure, the 2000 square feet Starlink router coverage is not tiny by any standards.
Still, some users prefer broader coverage; up to 6000 square feet, to be precise.
That's another reason they might need to bypass a Starlink router. 
How to bypass Starlink Router?
So let's discuss how to bypass Starlink Router.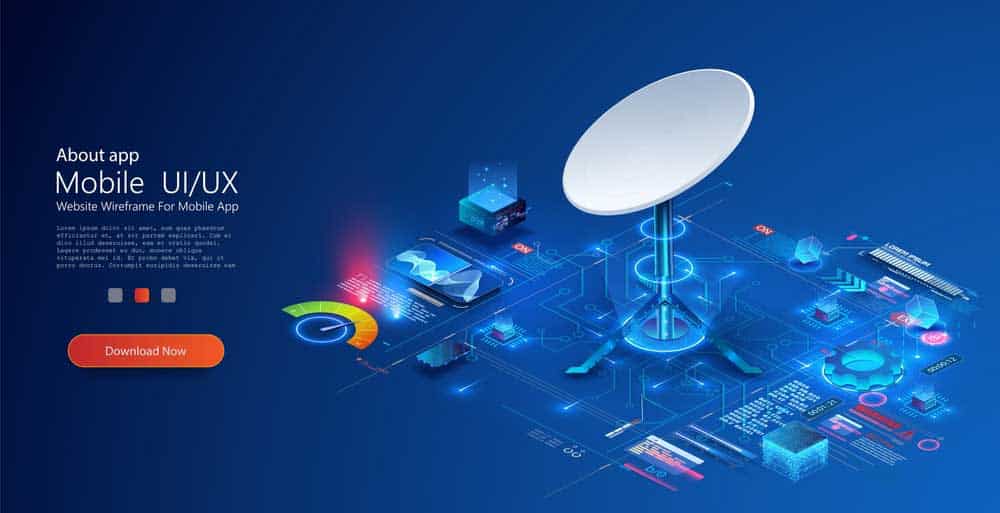 You can control Starlink from the smartphone Starlink app
Ensure you have the following items. 
Starlink router and Starlink smartphone app
Ethernet cable (You might need an Ethernet adapter if you have the newer rectangular Starlink dish.)
A stable internet connection
Procedure
| | |
| --- | --- |
| Step 1 | Confirm your Starlink router has a working connection to Wi-Fi. |
| Step 2 | Go to your smartphone's Starlink app and log in to the Starlink Account |
| Step 3 | Go to the app's Settings |
| Step 4 | You'll see an option to Bypass Starlink Router. Toggle on that option. |
| Step 5 | Save |
| Steps 6 & 7 | Exit the menu and reboot the router |
Great! You have successfully bypassed the Starlink router through the app. You have just enabled Bypass Mode and entered Bridge Mode.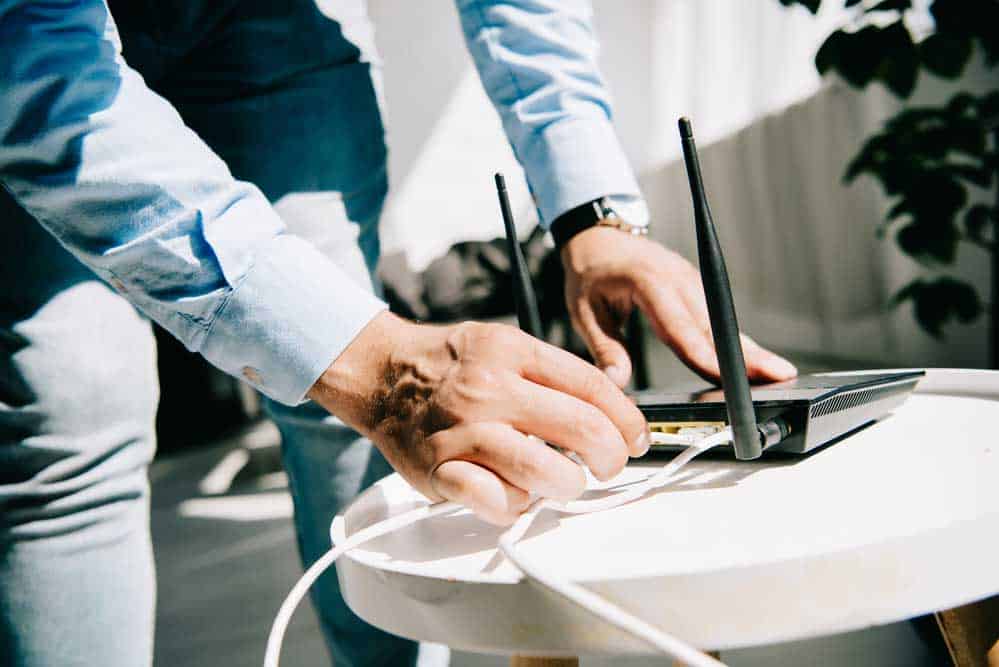 Man successfully connects Ethernet cable to a router
Still, you need to connect the Starlink dish and your third-party router using the Ethernet cable.
| | |
| --- | --- |
| Step 1 | Take your Cat 5 & above Ethernet cable and plug one end into the Starlink dish port. |
| Step 2 | Take the cable's other end and put it in your preferred router. |
| Step 3 | Start the configuration process.  |
Note: Each third-party router has a different configuration method. The configuration procedure is in the router's instruction manual.
Follow the manual to complete the Bypass process to have your router online. 
You will know you have completed the setup if you see the WAN address in this format – 100.xx.xx.xx. 
Third-party Router With Starlink
Say, for example, your Starlink fails. You have no control over it since it doesn't have onboard controls to help manually reset it.
You're a sitting duck if your smartphone also has a problem. 
However, a third-party router with Starlink gives you more control. And the best news is you can use any third-party router. 
This is how you set up a third-party router with Starlink.
We mentioned earlier that Starlink has an app. 
Input your login details and confirm Starlink is ONLINE. You'll see it only shows one device, Starlink, is online. 
Just below the area that shows the number of connected devices, you'll see Settings. Open settings. 
Once you toggle on the Bypass Starlink Wi-Fi router option, you will receive a warning. Don't panic.
The warning informs you your Starlink router is disabled, and you'll need a factory reset to reverse your action. 
Now you can connect the Ethernet cable using the method above. 
Factors To Consider When Purchasing Third-Party Routers To Use With Starlink
Multi-Device Handling Capability
Since you'd be getting faster speeds, ensure your third-party router can handle many devices at a go.
One of the Starlink router's limitations is guest capacity.
It doesn't make sense to bypass the Starlink router with another router that limits guest access.
Ensure your third-party router can accommodate a minimum of five devices. 
In-App Support And Control
You have the power of control in your hands. Ensure your third-party router has an app allowing you to configure smartphone settings.
Here's what you can do from a smartphone.
Block
Monitor interference
Parental control
Blocking malicious sites
Transmission Speed and Range
When we talk about speed, we recommend you go for a third-party router that can match Starlink router speeds.
Your internet plan must offer speeds above what you get from Starlink.
Moreover, your third-party router must have more coverage than the Starlink router.
The coverage requirement is why we recommend bypassing the Starlink router with a mesh system. 
Wi-Fi 6 Protocol Support
Third-party routers offer Wi-Fi 6
Starlink routers do not have Wi-Fi 6 (802.11ax) support. This lack of support is one of the main reasons you'd want a third-party router.
Hence, you must check that your third-party router is updated to Wi-Fi 6 standards. Ask your vendor these questions. 
Does it have Mu-MiMo support?
Mu-MiMo is a Wi-Fi 6 technology that enables multiple users, inputs,s, and outputs.
Your router can serve more devices in real-time simultaneously without losing signal speed. Updated MuMiMo protocols currently extend to uplinks, too. 
Does it have OFDMA support?
OFDMA stands for Orthogonal Frequency Division Multiple Access.
It's also a Wi-Fi 6 feature that allows an access point to serve multiple clients simultaneously.
However, each client gets a different amount of data. 
Does it have beamforming?
Beamforming is a Wi-Fi 6 feature that reduces noise in data transmission.
It ensures routers send out the strongest noiseless signal to targeted devices. 
You can operate with a third-party router without these Wi-Fi 6 features. Still, you'd get better performance from devices with them. 
Here are some practical third-party routers available on the market you should consider. 
Name
Why You Should Get It For Starlink Router
Eero 6+
Mesh wifi system offering Wi-Fi 6 standard speeds of 574MBps on 2.5GHz frequency and 2401MBps on 5GHz frequency. 
Three thousand square feet of coverage supporting up to 75 devices. 
4 Ethernet ports and a USB-C power jack.
It uses Eero TrueMesh technology to reduce dead spots and signal drop-offs.
TP-Link AX3000
Wi-Fi 6-enabled router offering 574MBps on 2.4GHz frequency and 2402MBps on 5GHz frequency.
1600 square foot coverage supporting over 25 devices. 
1 WAN Ethernet port & 4 LAN ports. 
OFDMA, guest network, beamforming support. 
Additional security and parental control features with a monthly $6 subscription.
NetGear Nighthawk AX5400
Wi-Fi 6 enabled router offering 574mbps on 2.4GHz frequency and 4801mpbs on 5GHz frequency.
2500 square foot coverage supporting over 25 devices. 
4 Ethernet ports 
OFDMA support, 2-FA authentication, Apple Touch ID. Malware & virus detection.
FAQ
Q: Which routers work best with Starlink routers?
A: We recommend getting mesh system routers as third-party routers to use with Starlink routers. They make the most of large spaces to avoid dead spots. You can also get mesh nodes from Starlink stores 
Q: Is there an alternative to the Starlink Ethernet adapter?
A: Currently, Starlink Ethernet adapters don't have alternatives. You can get a Starlink Ethernet adapter for about $20 from verified suppliers. 
Q: Can you connect multiple devices with a Starlink router?
A: Starlink says its router can support up to 128 devices, but we wouldn't recommend it. 
Why? You'll clog up the network and get slow speeds.  
To Wrap Up
Bypassing a Starlink Router with a third-party router opens a new world of faster connection and a broader range with Wi-Fi 6.
Furthermore, you get more controls and security features.
This procedure guide should benefit you in setting up your router.