Starlink shop offers a number of accessories that you may need for permanent installation and improved WiFi coverage. 
While Starlink offers hardware and accessories that are enough for installation and internet access, the store may not offer everything you need. 
We are going to show you what the kit comes with, what you need to purchase separately and whether you can get them from Starlink shop or aftermarket. 
Table of Contents
Starlink shop accessories
The kit comes with a dish, a temporary mount, a WiFi router, and a 75 feet standard Starlink and power cable.
 Anything else you will have to purchase separately. The best part, most of them you can get from the Starlink shop. 
Even with that, what Starlinks offers on their website may not be enough, depending on your mounting method. 
For that reason, you may purchase some of the accessories from aftermarket sources such as Amazon. 
You will also learn some of the aftermarket accessories that you may need but are not offered by Starlink stores. 
Starlink Shop Mount
Wall Mount
Starlink offers two wall mount options for mounting the dish on the fascia board and the exterior wall. 
These include a short wall mount, ideal for mounting to a roof fascia board, and a long wall mount for exterior wall mounting.
However, the long wall mount is still short in most cases, depending on the surroundings. You may need mounting options that will help elevate the dish above every obstacle. 
The best aftermarket alternative for wall mounts is J-mount. This option is readily available because it is common for TV antenna installations in our homes. 
They are also affordable compared to most mounting options. 
Roof Mount
Starlink shop roof mounts include the Pivot Mount and Flashing Mount. We use these two together when mounting the dish on the roof. 
The Flashing Mount is simply the base that secures the pivot mount. 
You may want a higher height than what the pivot mount can offer. You can use J-Mount in this case as well. 
They look similar in features and, therefore, can easily be substituted. 
Other Aftermarket Mounting options
You may require more height than J-mount can't offer. Or, you simply want to install Starlink mount on your roof without making a hole or install it away from home. 
There are other mounting options that you can shop from aftermarket to help you meet the required height. These include: 
Tripod Mount: This option lets you mount your dish temporarily or permanently on a flat surface and reach more height than what J-Mount can offer. It comes with a mast and heavy-duty tripod base. 
Chimney Mount: You may need a higher height on your roof. Chimney Mount can offer that. You have an option of using J-Mount on your chimney or pole mount. 
If you use a pole, you will need chimney holders.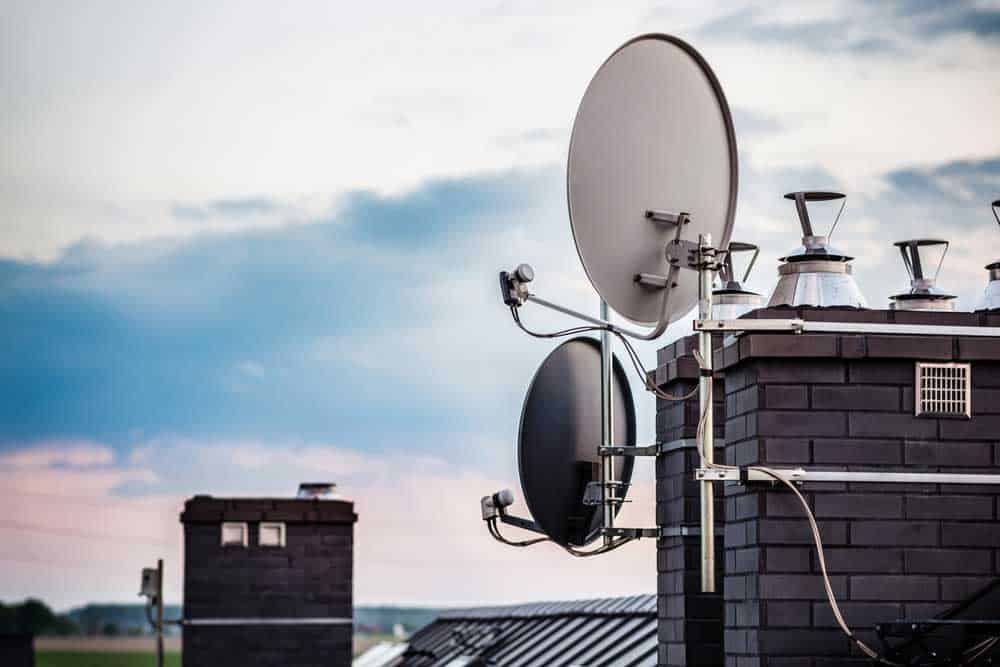 Two satellite dishes minted on a chimney
Pole Mount: If you want to install your dish in an open space, away from your house, you can purchase a pole or tower mount. 
Starlink Pipe Adapter
Starink offers a pipe adapter for easy mounting. It fastens and holds the mast in place, and you can only buy it from the Starlink shop. 
Network Accessories
Starlink kit comes with a capable WiFi router. However, it is only one, and most homes require internet coverage or capabilities that one router may not offer.
 Therefore, you may need accessories to boost Starlink's internet range and reliability in your home. Here are some of the accessories you may end up purchasing:
Starlink Ethernet Adapter
The Gen. 2 rectangular Starlink system has a proprietary design Ethernet adapter. You may need to purchase this adapter to increase your router capability. 
Unlike the round dish router with an Ethernet port, the new generation doesn't. The Starlink store Ethernet adapter costs $25 when you order directly from the company. 
Starlink Ethernet Switch
Again, the Starlink Ethernet adapter only offers one Ethernet port. If you will be connecting more devices, you may need an Ethernet switch. 
Connecting devices using an Ethernet cable to a router or Ethernet switch improves internet reliability and speed. 

10G Ethernet switch 
Starlink Mesh Node
A mesh network enables you to extend Starlink internet coverage to more areas of your house. 
Starlink has an official version of this device is more compatible with the system. 
However, you can get an aftermarket version at a cheaper price and with more advanced features. 
Unifi 5 Port Gigabit Switch is a great option for compatibility with Starlink. 
TP-Link Deco AXE5400 Tri-Band WiFi 6E Mesh System is also a great option if you want a better-performing alternative. 
Starlink Extension Cable
Starlink offers a replacement cable to help you extend the distance between the dish and the router. 
Remember, the cable in the kit is only 75 feet, which may be short, depending on where you install your dish. 
The Starlink extension cable is 150 feet in length. It is only available in Starlink stores and uses a proprietary connector. For that reason, an aftermarket cable cannot be an option. 
Starlink Mobile Case
For RV users, you will need a protective Starlink mobile case to protect the hardware while on the go. 
You can find it from the Starlink shop and aftermarket. The Starlink version is cheaper, and the aftermarket one looks larger and stronger. 
Final Thought
There are Starlink shop accessories, such as Ethernet adapters and replacement cables, that you can only find in their store. 
You can buy other options, such as Mesh nodes and mounts, from retailers such as Amazon. 
We have shown you the accessories you may need to install the Starlink equipment and improve your home internet coverage.