As Starlink continues with its global coverage plans, Starlink Internet Canada coverage is also set to grow. 
Starlink Internet in Canada covers areas most fiber internet service providers don't reach.
With advertised speeds of 150 Mbps (download), 30 Mbps (upload), and 20-40 ms latency, Starlink is the best alternative for individuals and families looking for a reliable option for satellite internet in Canada.
Plus, it only costs $140(CAD 189). 
Is Starlink Internet in Canada reliable? Let's find out. 
Table of Contents
Is Starlink Available in Canada?
Starlink internet has spread to a lot of parts of the world. As a closer neighbor to the US, Canada would always receive the satellite service. 
In April 2020, Starlink launched a beta program covering locations in a limited geographical area (43 and 53 degrees latitude).
Some of the locations can be ruled as rural. The beta program served about 10,000 New Brunswick, Nova Scotia, British Columbia, and Ontario residents. 
However, it expanded to the larger areas of Toronto and Vancouver in 2021. 
Currently, Starlink Internet has a total subscriber count of 1.5 million. It covers most areas in Canada, competing directly with other services that offer lower-priced packages. 
Why Does Starlink Not Work In Canada?
Starlink reports a high satisfaction score among users already on the service.
The parent company, Space X, attributes the reliable internet service to more satellites and constant improvements in software and hardware. 
However, some places in Canada don't have working Starlink internet. And it's for a simple reason: it's still a work in progress. 
Starlink is still on a launch drive to put more satellites in space. The goal is to have 42,000 satellites in orbit serving the globe. 
One of the key reasons Starlink might not work in Canada is your location.
Some areas in Ottawa, Toronto, Calgary, Montreal,  and some in Edmonton outskirts do not have Starlink.
However, you can expect coverage in those areas around the last quarter of 2023. 
Another reason why Starlink doesn't work in Canada is consistently bad weather.
Heavy rain, snow, and strong wind might interrupt the seamless receiving of Starlink signals.
Rural areas are among those specifically targeted for Starlink internet. Yet, weather patterns in those areas tend to be erratic during certain seasons. 
On the bright side, Starlink might cover bigger chunks of Canada by the start of 2024. 
How Much Does Starlink Cost In Canada?
Starlink internet price in Canada is in line with US and global prices.
While it costs about $120 in the US, Starlink Residential Internet in Canada is about $140 monthly. 
The $140 price tag excludes the equipment, which is $650 for residential, $3,170 for Starlink Business, and just under $600 for Starlink RV. 
In areas where Starlink is unavailable in Canada, you may be put on a "Better Than Nothing" waitlist.
This waitlist allows you to get your Stalink kit as soon as it's available for a $140 deposit.

Furthermore, you can enlist for the Best Effort Service, where you will receive a downgraded service before you get priority speeds. 

There is also a paid-once shipping and handling fee of $50. Other charges might arise when returning faulty equipment or including a paid professional to install the service.
Additionally, extra conveniences have more costs, such as custom mounting, mesh systems, and bypassing Starlink with third-party routers. 
While mounting is largely optional, some areas in Canada are heavily wooded. You must hoist your dishy higher for minimal obstruction and a clearer signal. 
Is Starlink Canada Internet Faster Better Than Fiber?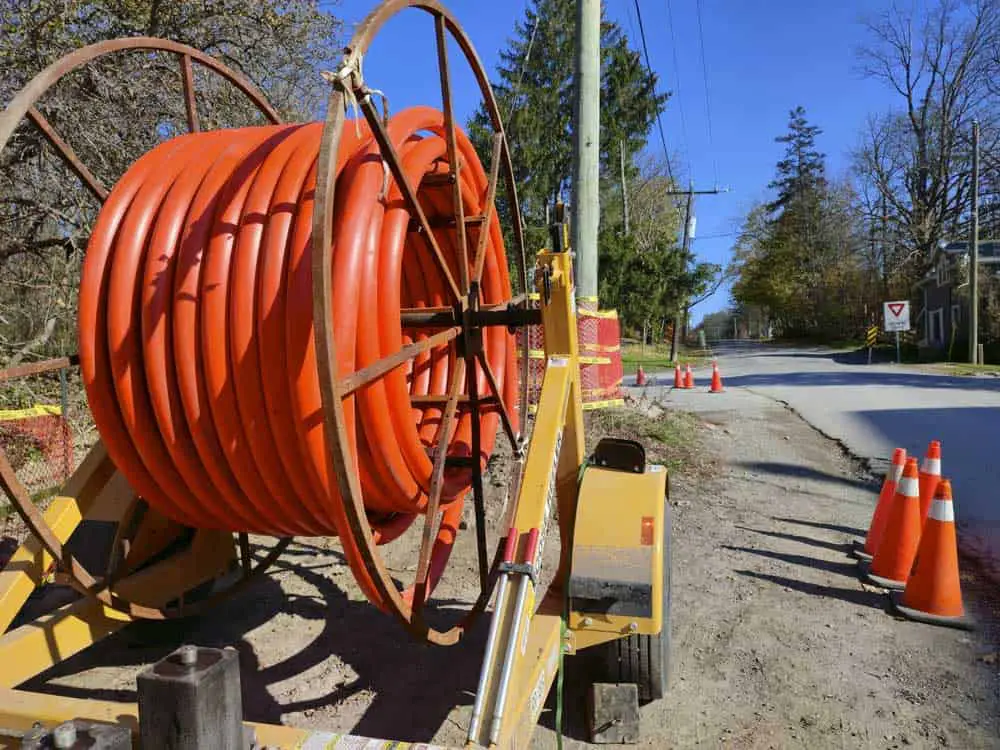 Fiber infrastructure for a big city
Canada has some big fiber ISPs already offering incredible speeds. Fiber bigwigs such as Bell, Telus, Rogers, and Shaw have up to 8 Gbps speeds.
While Starlink doesn't come close to such speeds, fiber ISPs are created for a different market.

Starlink in Canada highly benefits rural areas where consistently fast internet is hard to get.
Furthermore, Bell is only available in some regions of Ontario, Quebec, Manitoba, and Atlantic provinces.
Telus Fiber is available in most parts of Western Canada. However, the 2.5 Gbps PureFiber X is only available in Edmonton and some parts of British Columbia. 
In terms of speed, Starlink is lagging behind fiber providers in Canada. However, it is covering a larger area, which makes it better. 
Let's compare Starlink and fiber internet speeds in Canada. 
| | | | |
| --- | --- | --- | --- |
| ISP | DL Speed/UL speed | Latency | Cost |
| Starlink Residential | 100-150Mpbs/10-30Mpbs | 20-40ms | $140 |
| Bell | 1.5Gbps/940Mpbs | Below 10ms | $59.95-$94.95 with $199.95 upfront or 2-year contract |
| Telus Fiber | 1.5-2.5Gbps-/ 940Mbps | Below 10ms | $85-$125 with$0 upfront or annual contractual plans |
| Shaw | 1.5Gbps/25Mbps | Below 10ms | $50-$115 |
| Rogers | 300Mbps-1.5Gbps/30Mpbs | 25ms | $49.99-$124.99 |
Starlink vs. other Satellite ISPs in Canada?
Starlink joins other ISPs in satellite providing internet to rural areas in Canada.
Legacy players such as HughesNet and Xplornet offer affordable packages for many users. Here's how they stack up against Starlink. 
| | | | | |
| --- | --- | --- | --- | --- |
| ISP | DL/UL speed | Latency | Cost | Coverage |
| Starlink | 100-150Mpbs/10-30Mpbs | 20-40ms | $140 | Most of Canada |
| HughesNet | 25Mbps/3Mbps(Capped at 50GB) | 600-800ms | $129 + $299 upfront | Nationwide |
| Xplornet | 25Mbps/1Mbps(Capped at 200GB) | 600-800ms | $120 + $99 upfront | Mostly Quebec |
| Galaxy Broadband | 25Mbps/3Mbps | 600-800ms | $129.95 + $399 upfront | Nationwide |
| Teksavvy | 50Mbps-3Gbps/50-150Mbps | Below 10ms | $25.95-$117.95 | Nationwide |
How Can You Order Starlink In Canada?
Ordering Starlink is simple. 
Check whether you fall in the covered area. Just enter your address on the Starlink website. Fortunately, thanks to more satellite coverage, you're most likely in a Starlink-enabled area.
Go to Starlink's website and create an account. Your account contains your billing details, usage tracker, and all the Starlink services.
Pick a plan that suits you. The residential plan is a great start. 
Place an order. Provide payment details and a shipping address.
Be patient as you await your kit.
Congratulations, you've got your Starlink internet kit in Canada.
The kit should have the Starlink 2nd generation square dishy, the router, default mount, and cables.
We recommend getting an additional mount depending on location. 
Can You Travel in Canada With Starlink?
Man works online while in the outdoors 
You can travel with Starlink Internet in Canada if you enlist for Starlink RV or Portability. However, you may have to limit your travel locations to coverage availability. 
The best way to know where to go in Canada with Starlink is to check the Starlink Internet Canada coverage map. 
Starlink has ground stations in Canada. 
This means you will have fast speeds while you travel since satellites can communicate with the ground stations there.
Otherwise, you would have painfully slow speeds and long latency periods unsuitable for streaming, gaming, and high-rate sensitive business. 
With Starlink ROAM, though, you may have to pay about $200 monthly and experience lower speeds. 
Additionally, if you move from the US to Canada or from Canada to the US with your dish, you must transfer your account to the current country if you stay more than two months. That way, you retain your subscription. 
However, you can cancel your subscription. Still, we wouldn't recommend that. 
Conclusion
As a country with many cultures, Canada needs to have reliable internet in most areas, supporting remote working. 
Starlink is leading in providing rural areas in Canada with high-speed satellites. It is extending its reach to areas where pre-existing ISPs aren't covering. 
Check the Starlink coverage map to know if your area is favorable for satellite internet.