There has been a serious debate surrounding Starlink vs. Eyesight Subaru features. 
Starlink offers multimedia and security top-notch features that effortlessly connect your car and enable you to navigate more conveniently. 
The Starlink multimedia on Subaru cars allows you to interact with your media, phone calls, text messages, and navigation.
On the other hand, Eyesight Subaru technology feels like an extra pair of eye features when commuting.
 The technology features traffic movement around your vehicle and warns you whenever you sway out of your lane. 
Starlink Vs. Eyesight Subaru: Key Features
Subaru Eyesight and security focus on your guard when you're on the road, while Starlink focuses on your and your car's safety and security.
Starlink Safety and Security features
Starlink Multimedia: This feature lets you connect music, podcast, news, and navigation to your vehicle. 
Its wireless pairing and hand-free phone operation make driving safe and straightforward. 
The multimedia system has Android Auto, AM/FM Stereo Bluetooth, audio streaming connectivity and voice-activated controls. 
WiFi Connectivity: With this, you can stream content without using your smartphone.
SOS Emergency Assistance: When you push the SOS button, the system alerts customer care. The customer care advisors communicate through your vehicle speaker and help you with the first responders. 
Automatic Collision Notification: When about to collide, the system will alert customer care 24/7 for the entire year. Then the advisor will communicate via vehicle speakers and promptly alert you to the first responder. 
Stolen Vehicle Recovery: Starlink customer care works with police to recover your car by tracking it via its GPS location.
Monthly Car Health Report: Starlink automatically sends you a monthly email with a link from your Subaru account showing you your Subaru diagnostic report. 
Other features include:
Diagnostic alert and maintenance notification
Vehicle security alarm alerts
Remote services
Subaru Eyesight Features
Adaptive Cruise Control: The system helps you choose and keep an appropriate distance between your car and vehicle. Eyesight will help you in adjusting to maintain the desired length. 
Dual Color Cameras: The cameras scan the road ahead to detect any expected hazard or danger. 
Automatic Pre-collision breakings: This feature can prevent or minimize frontal collision by providing alerts and applying maximum braking force during emergencies. Eyesight can reduce pedestrian-related injuries by up to 35%.
Lane Departure Warning: When the vehicle starts moving towards the lane makers without using the turn signal, the system will notify you with audible beeps and display a warning on the dashboard. This feature aims to assist you in staying within your lane and avoiding unintentional drifting.
Pre-collision Throttle Management: The system detects obstacles ahead of the vehicle with a potential collision risk. To mitigate the impact force and minimize frontal damage, it reduces engine power. 
Lane Keeps Assist: If you fail to respond promptly to the Lane Departure and Sway Warning alert, the Lane Keeps Assist feature can help by automatically making steering adjustments to guide your Subaru back to the lane. 
Lead Vehicle Start Alert: The system alerts you when the vehicle ahead moves. This notification emerges when the lead vehicle has moved at least 10 feet forward.  
Rear Seat Reminder: The feature prompts the driver to inspect the rear seat area for the presence of children or pets before leaving the vehicle. If one of the second-row doors opens before commencing the journey, it activates this alert.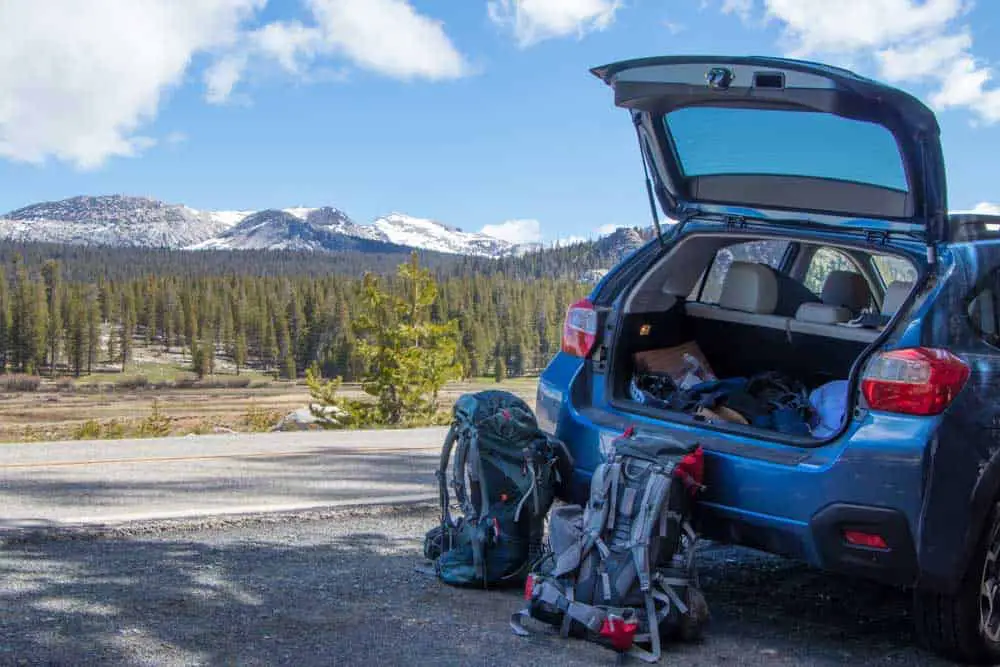 Subaru car for outdoor hiking
What Happened to Starlink Safety and Security After 3G Became Outdated?
Starlink safety and security connected services in certain older model-year Subaru vehicles relied on a wireless connection, specifically a 3G network. 
However, the wireless provider responsible for this network retired in February 2022. 
Consequently, services like Automatic Collision Notification, SOS Emergency Assistance, and Remote Vehicle feature were impacted in Subaru vehicles.
Subaru retailers offer complimentary updates for affected vehicles with an active Starlink safety and security subscription to address this issue.
 These updates ensure uninterrupted access to the crucial Starlink safety and security services.
 If your old vehicle is affected and not updated before the retirement of the 3G network, your Starlink subscription gets canceled. 
How Did the Starlink System Get Updated?
The Subaru Vehicle update requires an authorized retailer to complete the process.
 Customers with an active Starlink safety and security subscription began scheduling service appointments for complimentary updates starting on March 18, 2021. 
What are the Features of the latest Starlink Subaru System?
The 2023 legacy offers the upgraded version of Subaru Starlink multimedia 11.6" plus system as a feature. 
This system includes Android Auto and comes with a display of full screen and wireless Apple CarPlay. 
The system's Standard features include audio streaming and Bluetooth connectivity for hands-free phone calls.
 It also includes AM/FM stereo, rear vision camera, SiriusXM and SiriusXM Travel Link ( with a four-month free platinum subscription), OTA updates, HD Radio, and a new Valet Mode. 
Equipped with the 11.6" touchscreen, this new model seamlessly integrates with the combination meter. 
The on-screen control for HVAC, and audio, among other vehicle functions, has been approved. 
Starlink vs. Eyesight Subaru: Which One is the Best on Subaru?
The Starlink and Eyesight technologies offered by Subaru provide distinct benefits for drivers.
 Starlink focuses on multimedia and security features, allowing seamless connectivity and access to media, navigation and safety services. 
It offers multimedia integration, WiFi connectivity, emergency assistance, collision notification, stolen vehicle recovery, remote services and more. 
Eyesight, as the name implies, acts as an extra set of eyes for your Subaru.
 It provides features such as adaptive cruise control, pre-collision braking, lane departure warning, lead vehicle start alert and more. 
The best technology for your Subaru will depend on the features you want on your vehicle.