The following article explores Starlink vs. Hughesnet.
Speaking of the internet, at least 42 million US citizens have no access to fixed broadband internet (as of 2022).
This statistic is shocking, especially considering the US ranks 11th in global internet speeds.

Rural America seems to struggle the most with internet connectivity largely because cable-based internet services are scarce.
Thanks to satellite internet, previously non-connected citizens have more options.
Starlink and Hughesnet are two of the biggest ISPs in this area.
But whose services are better?
Table of Contents
Starlink vs. Hughesnet: Comparison Table
Internet broadcast
Starlink
HughesNet
Year Company Was Established
2002 (SpaceX)
1971 (Hughes Network)
Date of First Internet Satellite Deployment
2019
1996
Download Speeds
50-500 Mbps (Plan-dependant)
25 Mbps
Upload Speeds
2 – 20 Mbps
3 Mbps
Hardware Costs
$599 to $2500 (Plan Dependant) 

$450 one-time purchase

$15 monthly rental
Monthly Subscriptions
$120 to $500 (Plan-dependant)
$65 – $160(Storage plan-dependant) 
Portability
Portable through the RV Plan
N/A
Wait-List
Waitlist
None
Data Cap
1TB to 6TB (Plan Dependant)
15GB to 100GB (Plan Dependant)
Installation Difficulty
Plan dependant. The installation difficulty for the Standard Starlink plan is moderate. Thus, it's possible to self-install. 
However, the Business and RV Plan will require the services of a professional installer. This can cost as much as $99  
Requires a professional installer for all plans
Starlink vs. HughesNet: An Overview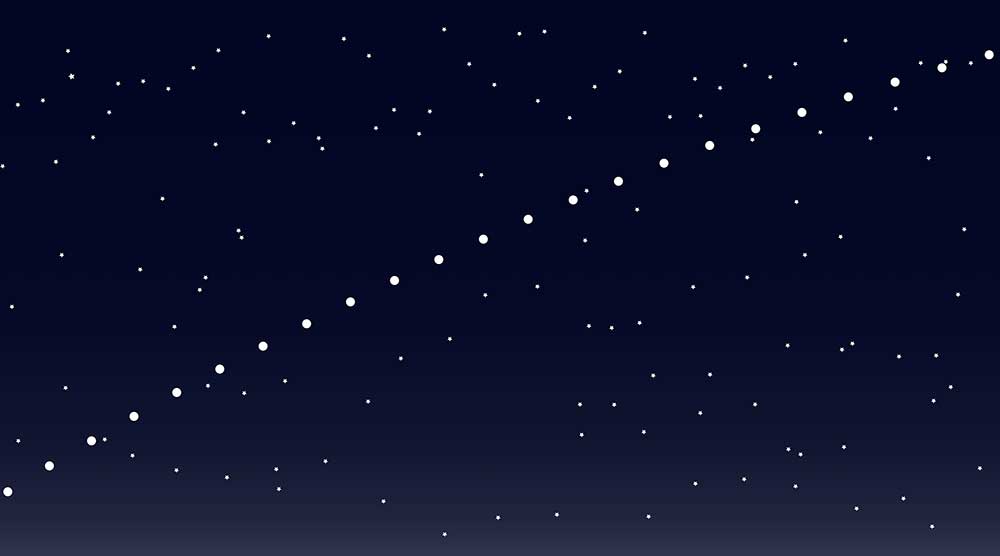 Starlink
HughesNet is a satellite-based internet service provided by Hughes Network, a company that has existed since the early 1970s.
The company first offered broadband satellite internet under the HughesNet banner in 1971.
Today, it boasts over 1.3 million subscribers all over North and South America. 
On the other hand, SpaceX only introduced StarLink in 2019, almost equaling the number of subscribers as a Hughesnet by the end of 2022.
As of 2023, Starlink has over 4000 mass-produced mini-satellites in its constellation. 
Comparatively, HughesNet only has two dedicated internet satellites in orbit.
But does it make a difference?
Let's compare these services' key features. 
Coverage
Starlink space signal
Starlink's competition cannot match its global availability. HughesNet is no exception.
While it covers most of the United States, Puerto Rico and Alaska, Starlink covers over 50 countries.
This is due to its large satellite constellation.
Ultimately, Starlink is available in at least one country on every continent.
You can observe which regions Starlink supports by viewing its interactive coverage map.
It doesn't seem that HughesNet offers the same interactive feature.
However, you can use BroadBandNow's HughesNet availability map.
This should allow you to compare coverage between the two services.
Starlink has the best coverage, and things will continue that way unless The Hughes Network makes some major changes.   
Hardware Costs
Starlink's equipment costs are plan and hardware dependent.
However, regardless of your chosen plan, they're generally higher than HughesNet's hardware costs.
Starlink's portable hardware requires a one-time fee of $599.99, while its in-motion equipment will set you back $2500.     
The company's portable hardware is intended for their standard residential plans, while (as the name implies) their in-motion systems are designed for mobile homes and RVs.
The portable hardware comes in the form of a kit that Starlink sends to you.
This includes the Starlink receiver, a base, a router, cables and a set of instructions.
The kit is easy enough to set up by yourself. 
Contrastingly, only a professional service member can install Starlink's far more expensive in-motion hardware.
Moreover, it is only available in select regions and markets. Labour may end up costing you as much as $99. 
HughesNet's prices are a bit more forgiving than Starlink's.
You can make a one-time purchase or pay a monthly rental fee.
The equipment includes a specialized satellite dish and a modem with a built-in Wi-Fi router.
This equipment must be set up and configured by an official HughesNet technician, which generally costs at least $99.99.
However, they will waive the installation fee if you purchase HughesNet's hardware outright.
Performance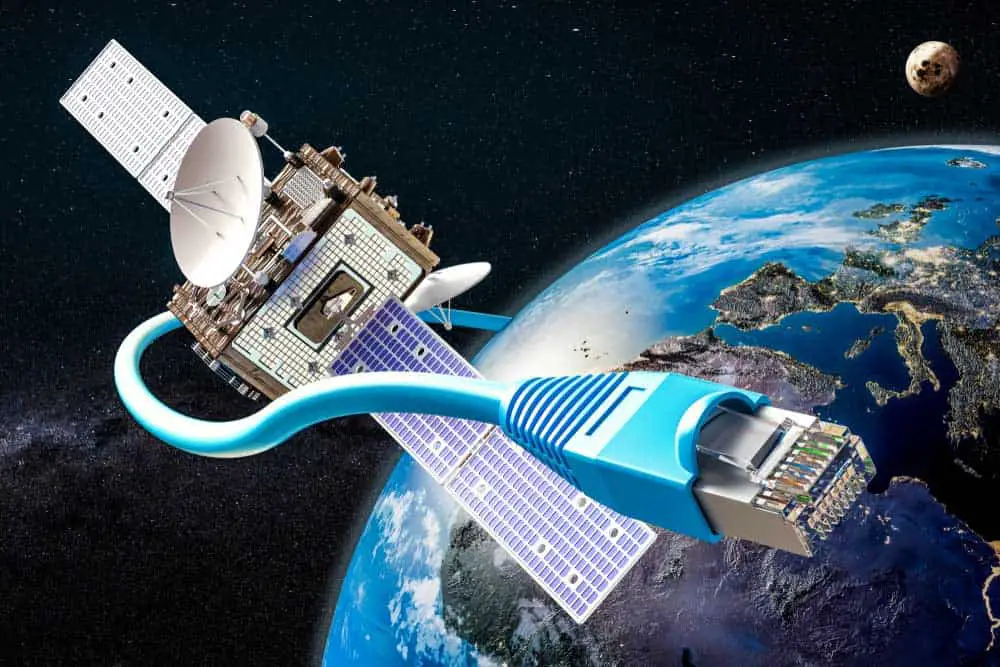 Global satellite Internet service concept
Satellite internet has always received a bad rep for not matching cable-based and broadband internet download and upload speeds.
Starlink has almost changed this narrative.
Hence, the service's rapidly increasing popularity.
As we stated previously, this can be partially credited to the number of satellites Starlink has in its constellation.
But these satellites are also light and low orbiting.
This improves signal quality and decreases latency.
Starlink offers download speeds of up to 200 Mbps for residential areas and 500 Mbps for businesses.
All plans can reach upload speeds of 20 Mbps.
Of course, these speeds depend on what plan you choose.
Regardless, the cheapest plan still outdoes HughesNet's offerings. 
When writing this article, HughesNet offered download speeds of up to 25 Mbps and upload speeds that could reach a maximum of 3 Mbps.
HughesNet had plans to launch the Jupiter 3 satellite in at least 2021.
Unfortunately, the Covid-19 pandemic derailed these plans.
It was set to launch in 2023 and promised to increase download speeds to 150 Mbps per second.
Regardless, even with these upgrades, HughesNet would still lag behind Starlink.  
Subscription Costs
Internet starlink satellite
Starlink offers/offered the following plans:
Residential: $110 
Starlink Roam/RV: $135
Business: $500
Maritime: $5000
*All plans are billed monthly and are subject to change. 
HughesNet offers/offered the following capped plans: 
10GB: $49.99
20GB: $69.99
30GB: $99.99
50GB: $129.99
HughesNet's plans aren't technically capped. Users who reach their monthly data threshold will be subject to reduced speeds.
Contrastingly, Starlink is completely unlimited (for now).
Although SpaceX and co scrapped plans for a 1TB per month cap. 
Regardless, HughesNet's plans are based on data limits or capacity.
Starlinks are far more innovative.
For instance, its Maritime plan is catered toward watercrafts such as boats, yachts, and ships.
It promises speeds of up to 350 Mbps. The Roaming plan lets you add a satellite dish/receiver to your mobile home. 
While Hughesnet does not offer a mobile or RV solution, you can purchase a mobile satellite dish from a third-party such as IPSat.
FAQs
Is Starlink suitable for marine use?
Starlink features a Maritime package suitable for marine use.
Because Starlink has the widest global coverage of any Satellite-based ISP, it's available in most seas and oceans.
What ships are using Starlink?
Several cruise lines and ship fleets have begun to use Starlink's Maritime services.
The most notable companies include the SeaDreamYacht Club, Celebrity Cruises, Royal Caribbean, and American Cruise Lines.
Is HughesNet fast enough for Netflix?
Broadband satellite internet has a notorious reputation for being too unstable for streaming.
However, because HughesNet can reach speeds up to 20 Mbps, streaming high-definition media from services like Netflix is possible.
Although, we would not recommend it for 4K streaming.
What is the biggest disadvantage of satellite internet?
Satellite internet can be unstable.
Most satellite internet services have high latency and low download speeds.
But this will soon change.
However, the quality of your satellite internet connection will still depend on the weather.
It's a limitation that's difficult to get around.  
Starlink vs. Hughesnet: Conclusion
The above guide compares Starlink vs. Hughesnet.
Suffice it to say, Starlink, despite its flaws, completely blows Hughesnet out of the water.
While the Better Business Bureau highly rates Hughesnet, it generally has terrible customer ratings.
For instance, it has a 1.1-star rating from over 140 reviews on SiteJabber.
Because of its low latency and high download speeds, Starlink is ideal for gaming and streaming videos.
However, it still suffers from many limitations of other satellite internet services, including interruptions during overcasts and rain storms.
Even so, it's still the best choice for uncapped/unlimited satellite internet.