Have you been looking for the best mesh WiFi for Starlink that can extend your home Starlink internet coverage to the compound?
Starlink WiFi router coverage is only 2000 square feet based on how practical testing with Gen 2 router is. This is only enough to cover a small house or office. 
Extending your Starlink internet using mesh WiFi is the way to go. However, not all mesh Wi-Fi works equally, and some are not even compatible with Starlink.
After thoroughly testing, we settled on the top five that you will find in the market today. 
Table of Contents
What is a Mesh network?
A Mesh network is a system of mesh nodes (wireless access points) capable of communicating with each other and your Starlink router.
This interconnectivity and the seamless coverage is why we describe it as a Mesh network. 
Mesh network connect in a similar pattern as Mesh fabric. It makes your home network coverage more uniform than what Starlink routers alone can offer.
Starlink Mesh WiFi Review
Here are our top mesh WiFi that work best with Starlink: 
TP-Link XE75 – Best Overal
This tri-band system will offer consistent speed and performance without breaking the bank. The latest WiFi 6E is the best option for a professional gamer, streamer,
YouTuber or someone looking to stream on multiple devices. We are talking about handling more than 200 devices simultaneously. 
We tested and could extend the Starlink coverage to 7,200 sq ft.
However, if you have a larger compound and want to extend beyond this, you can continue buying packs of the same mesh system until you get the coverage you want. 
TP-Link XE75 offers a handy app that you can use to control it from anywhere.
A homeshield feature offers parental control, free network scan, detailed network usage report, and more. 
Pros
Support 6E and 6 GHz band
It can take up to 200 devices
Great security features
speed of up to 5400 Mbps.
Cons
No multi-ethernet support
ASUS ZenWiFi XD6 – Best for Gaming
This dual-band offers a consistent speed without lag, even when connecting multiple devices.
This system is a great gaming device because the adaptive QoS enables you to select between multiple profiles for the fastest gaming experience. 
With six antennas, expect consistent connectivity throughout your home space. Setting it up is very easy, thanks to the mobile app that it offers. 
The free airProtection feature can detect ransomware and viruses and automatically block them. You also get the parent control feature that will help you monitor your kids' internet activities. 
Pros
Support gaming effectively
Highly customizable
Easy to set up in three steps
Cons
Netgear Orbi RBK752 – Best for Live Streaming
Forget about its relatively higher cost. This WiFi system has unmatched compatibility with Starlink. Besides, it offers many customizable capabilities and can connect up to 40 devices at equal rates. 
This WiFi system has six beamforming antennas spanning up to 3750 Sq ft without reduced speed or rising latency.
You can control the system with a simple Orbi app. You can remotely adjust the settings and add a device to the network, among other things. 
Netgear Armor control and smart parental control protect the system against attack by third parties or your children from accessing harmful websites. 
Pros
Outstanding security feature
Support streaming well
Dedicated wireless backhaul
Cons
Amazon Earo 6+ – Best Value
This is an upgrade to the original Earo 6 with better antennas, radios, wider channels, and better speed.
You are guaranteed a consistent network no matter the number of devices you connect. You can connect more than 75 devices wirelessly with this network service without network drops or lags. 
2.4GHz and 5GHz can improve Starlink speed from 50-250 Mbps to 70-150 Mbps with up to 3,000 sq ft coverage. 
Pros
Strong data security
160MHz channels supported
Can work with Alexa
Cons
2nd Gen. Google Nest WiFi – Most Easy to Use
With WiFi 5 capability, you may look down upon this mesh router. However, combined with the Starlink WiFi package, it can offer great coverage.
The set comes with two nodes that can extend your WiFi to a great extent. You can purchase more nodes if you want to increase the coverage. 
Like other mesh WiFi in this review, Google Nest has a Google WiFi app that will help you control the system even remotely.
You can also control your children's activity online and stop WiFi from the system anytime. 
Pros
Strong encryption
Simple configuration
Cons
What to Consider When Choosing Mesh WiFi for Starlink
Speed
 Mesh Wi-Fi should offer great speed in every part of your compound. Choose mesh WiFi capable of handling the speed your Starlink router offers.
If your router offers a download speed of 1Gbps, your Mesh nodes should be able to handle that.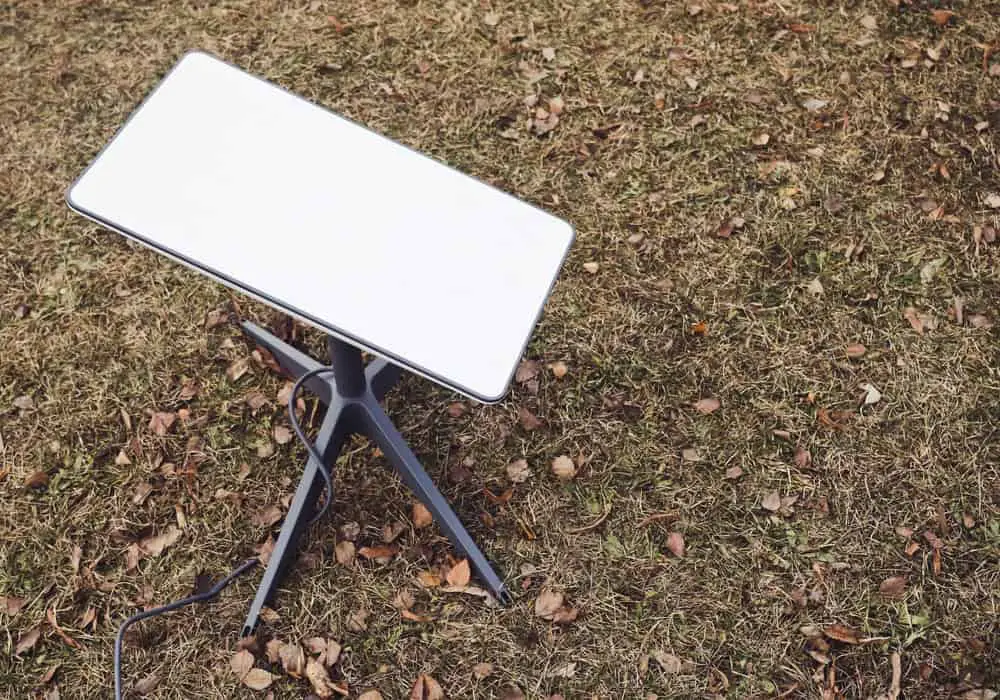 Rectangle antenna for receiving internet signal
WiFi Range
This is the main reason people use these devices – to extend their home WiFi coverage. You can get the coverage to whatever extent you want.
All you need is to connect more nodes. Less say your Mesh comes with 5,500 Sq ft, but you realize your compound is larger and would require more than that.
Continue purchasing a single Mesh node variant of the same router until you achieve the coverage that you want. 
App Support
Mesh Network usually offers a user-friendly app that can guide you through setting the network up and also help you control the Mesh network wherever you are.
With this app, you don't have to be tech-savvy to set up the service. You can also control the band and device you are connecting from anywhere. 
For that reason, it is prudent to ensure the Mesh WiFi that you settle on offers this app. Though most Mesh WiFi offers an app, some may lack it. 
Security Features
The device should have security features such as parental control, free network scans, device priority with QoS, and encryption features. For more profound features, some Mesh offer premium upgrades. 
Final Thought
There you have it. You can now easily pick the best mesh WiFi and use it to extend the coverage of the internet in your home.
Each of our top picks has its biggest strength assigned to it to help you decide based on what you are looking for.