Starlink Aviation has been just a concept for a while. Well, not anymore. You might experience it sooner than you expected. 
Airplane Wi-Fi will skyrocket into a $14B industry by 2027 if projections are anything to go by. 
With successful concepts like Starlink RV and Starlink Maritime already implemented, Starlink Aviation will soon be a regular in-flight feature by mid-2023. 
Let's explore some of the expected benefits and imminent threats to its success. 
Table of Contents
What Is Starlink Aviation?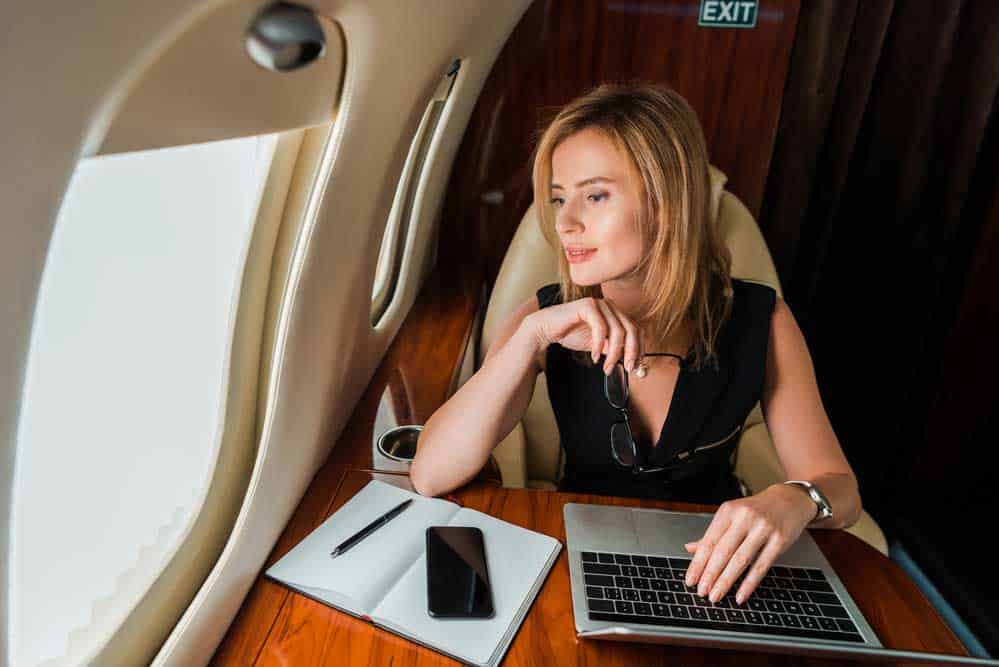 A woman uses the internet on board a plane
Starlink Aviation is an internet subscription service by Space X to enable subscribers to enjoy low-latency, high-speed satellite internet in airplanes.
 Space X says the plan will provide internet coverage from taxi, takeoff, flight over land and water, and landing. 
Starlink RV and Starlink Maritime are already active. 
Aside from the regular Starlink Residential and Starlink Business, think of Starlink RV, Maritime, and Aviation as special packages. 
Starlink Aviation is a solution to a service most airplane travelers have found disappointing. Airlines charge for in-flight Wi-Fi. 
And while it is important to stay connected onboard, the in-flight internet service can be unreliable. 
To understand Starlink Aviation, you need to know how airplanes get in-flight Wi-Fi. There are two ways, Air-to-Ground (ATG) or satellites.
Air to Ground Airplane Internet
The aircraft has antennas at the bottom of the plane. The antennas receive internet signals from cell towers on the ground. 
These signals are transferred to the interior of the aircraft. 
However, this method has a problem. 
The airplane loses signal immediately it is over territory with restricted internet or areas with no towers, such as seas or mountains. 
Satellite
The airplane receives signals from satellites to antennas on the plane's surface. 
This method works better than ATG if there are satellites constantly in contact with the plane's antennas. 
And this is where Starlink Aviation comes in. 
Starlink satellites operate in low-earth orbit. Normally, it would take longer for signals to get to ground stations from GEO satellites.
 However, with more than 3000 satellites already deployed, Starlink Aviation will get fast speeds and low latency even when airplanes are on the move. 
Let's look at some of Starlink Aviation's technical specifics. 
Starlink Aviation Equipment and Installation
Space X will fit hardware especially meant for Starlink internet. The kit features an Aero Terminal, a power supply, two wireless access points, and harnesses. 
The Aero Terminal kit will have an electronic phased array antenna. 
The phased array antenna is extremely crucial for the success of Starlink Aviation's data transmission. 
Since the plane is in super fast motion, it needs an antenna that beams signals in a focused direction. 
Phased array antennas can change the shape and pattern of signals without physical movement.
The stationary capability of the antenna doesn't affect the plane's aerodynamics.
 Yet, it maintains the strength of the internet signal received within the aircraft. 
However, Space X maintains it will not be responsible for mounting the equipment.
That responsibility is left to the airline's maintenance teams. Alternatively, Starlink will recommend verified professional installers. 
Starlink Aviation Speed and Latency
Space X had promised speeds of up to 350 Mbps. For comparison, Starlink residential speeds range between 50 and 250 Mbps. 
Speeds up to 350 Mbps are suitable for speed-critical web services such as video calls and streaming for in-flight entertainment on every plane.
While upload speeds are yet to be determined, we can speculate they wouldn't be lower than Starlink Residential's 10 to 20 Mbps or Starlink RV's maximum 10 Mbps. 
A key factor that might influence airlines' further uptake of Starlink Aviation is latency. 
In motion, it would be common for a plane to experience long lapses of internet blackout. 
However, with Starlink LEO satellites and Starlink's Aviation antenna placement, latency could stay as low as low as 20 ms. 
These speeds could push Starlink to the top of the leaderboard in in-flight internet services. 
Most airlines rely on ATG internet systems which provide only 10 Mbps per flight.
However, satellite systems provide between 30 and 100 Mbps. 
Starlink might have promised 350 Mbps, but a test flight between Burbank and San José using Aviacionline showed speeds up to 100 Mbps.
 As Space X streamlines the Starlink Aviation package, 350Mbps sounds achievable. 
Starlink Aviation Cost of Equipment and Service
Starlink Aviation Internet is already taking pre-orders. However, a preorder of the hardware carries a $5,000 fee. 
The Aero Terminal, power supply, two wireless access points, and harness kit cost $150,000 for each aircraft fitted. 
After all the fittings, airlines will pay between $12,500 and $25,000 per month. 
According to Elon Musk's social media activity, "Internet in airplanes will feel same as if you were accessing the Internet at home!"
When Will Starlink Aviation Be Available?
Private jet for business travel
For the longest time, Gogo has been the dominant airplane internet provider.
However, since Space X announced Starlink Aviation, there has been some excitement in the industry.
 By all indications, the first batch of deliveries in mid-2023 might be for business and private jets. 
Space X filed a request to kit out the following airplane models. 
Challenger 300 and 350
Global 5000, 6000, 7500, and Global Express.
The ERJ-135 and 145
G450, 550 and 650
Falcon 2000
Due to the initial cost, business clients and private individuals might get first pickings. Eventually, Starlink Aviation will expand to commercial airlines.
Space X has already agreed with Hawaiian Airlines to provide Starlink Aviation services. The airline will, in turn, offer its customers free in-flight Wi-Fi. 
Other airlines already in agreement for Starlink Aviation include Latvia-based, AirBaltic, and California's JSX Air. 
Two of JSX's Embraer 135s and 145 planes have been kitted for testing. 
What are the Major Concerns about Starlink Aviation?
Even as Starlink Aviation gathers popularity among commercial aviation players, some concerns remain. 
Design Alterations
Every airplane equipped with in-flight internet equipment has an altered design.
 The antennas onboard the plane typically interferes with the plane's aerodynamics, costing airlines large amounts of money in fuel costs over time. 
To that end, Starlink must seek Federal Aviation Administration (FAA) authorization to change the airplane design. 
However, Space X's use of a phased array antenna might be a confidence booster. It is only minimally intrusive and lightweight and does not move during flight. 
Customer Support
Going by the initial prices of the Starlink Aviation kit and monthly charges, it is anticipated the plan will be attractive to high net-worth clients. 
Typically, high net-worth clientele might request priority service. And that means priority customer support, too. 
However, Starlink does not have a dedicated direct customer service line for immediate concerns. 
You have to raise a ticket through the app to get assistance in less than 72 hours. 
Given the sensitive nature of air travel concerns, it is unclear how Starlink will handle this issue. 
Final thoughts: Is Starlink Aviation Worth It?
Starlink Aviations adds to Space X's internet coverage on land, air, and water.
It promises fast speeds, minimal latency, and uninterrupted coverage while you're up in the skies. 
Additionally, Space X guarantees it won't put data caps on how much data you use while you're in flight. 
Airlines such as Hawaiian Airlines have included Starlink Aviations as a free perk for their customers.
It remains to be seen whether other airlines will use the same incentive or if they will charge extra for the service.
But for the benefits, Starlink Aviation looks like a worthwhile service.