When you think of Starlink, are your first thoughts satellites or a Starlink ground station?
Yet, Starlink ground stations are a crucial part of the Starlink satellite Internet machinery. 
Space X has Starlink ground stations on every continent, with plans to increase capacity.
Starlink ground stations (gateways) are integral to the connection between data and how fast you get it.
However, future changes could massively boost speeds and bandwidth and reduce latency. 
Let's explore the role of Starlink ground stations in providing stable Internet to users. 
Table of Contents
The Basic Starlink Layout
The Starlink system consists of three vital components. 
Satellites in low-earth orbit
Ground stations spread across large territories.
User terminals in registered locations
There are currently 3,580 Starlink satellites in space. These satellites operate in low earth orbit, much to the benefit of Starlink subscribers. 
Unlike other Satellite internet providers, LEO satellites mean data can reach ground stations and user terminals faster.
The time it takes for signals to reach these endpoints is known as latency. 
Therefore, Starlink LEO satellites ensure users get speedy internet in less time. 
On the other hand, user terminals are the Starlink kits you have at registered residential and business premises.
The kits receive signals from satellites via ground stations to give you access to information on the internet.
What Is A Starlink Ground Station?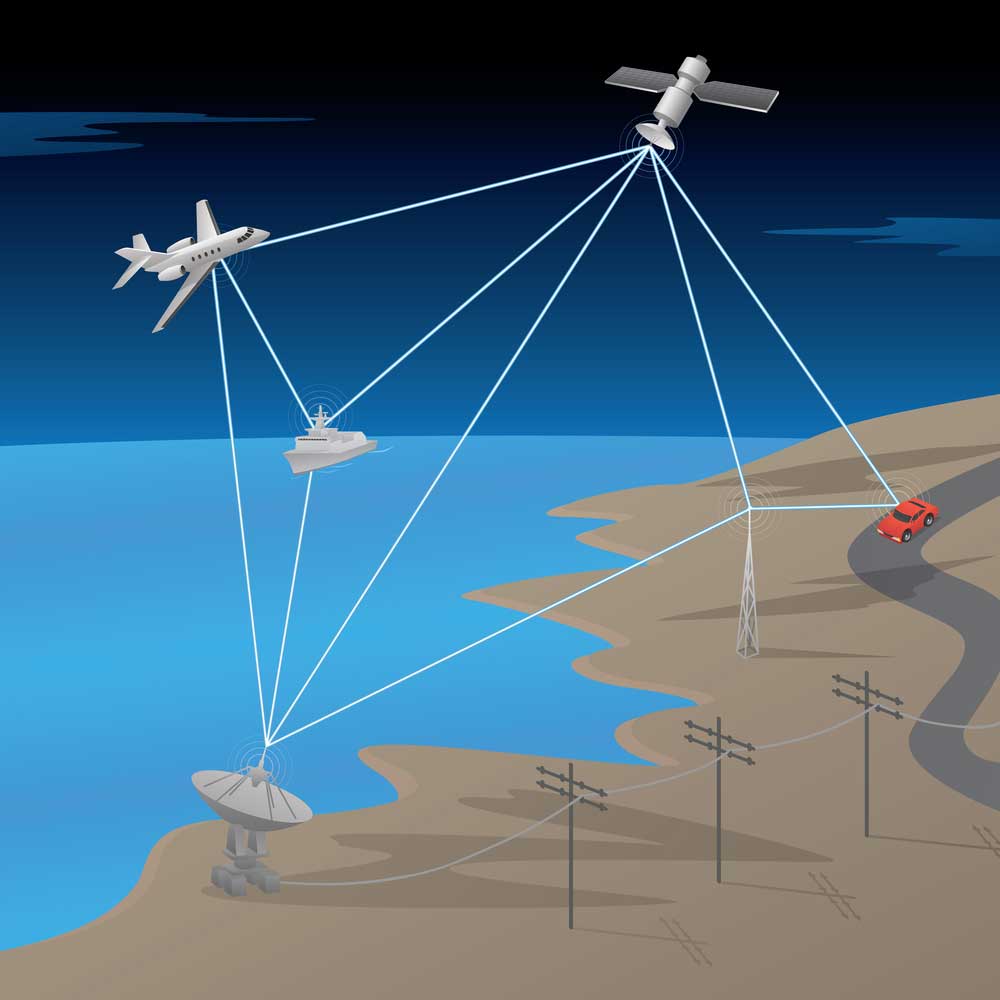 Satellite communication with ground station antenna and user devices
Starlink ground stations are like receiver centers for Starlink internet traffic between your home and satellites.
They are the Earth's middleman in that triangle of communication. 
A Starlink ground station links to Starlink satellites and data centers on Earth.
The data centers have pre-laid fiber optic infrastructure.
However, these gateways can't communicate directly with your user terminals. 
Starlink ground stations are housed in a 400 square meter area in various locations worldwide. There are nine antennas in each ground station. 
Starlink ground station antennas have an SMC fiberglass dish, 10 meters wide inside.
The dish automatically faces upwards at a 53-degree angle to get the clearest signal. 
The metal dish is highly reflective, so it can safely bounce off signals. 
The dish also features a protective mesh to keep away any birds and huge critters.
There's a heater and recirculation fan below the dish to keep away snow during winter.
A computer controls each ground station. It controls and communicates with the Starlink satellites.
The computer may be under a different protective sheltering. Each gateway has a hatch door to access the ground station's interior components. 
The dish rests on a heavy concrete surface to keep it stable against harsh weather. 
All Starlink ground stations have a protective radome. Radomes are weatherproof enclosures that protect the antennas.
These radomes are created with a unique material that only minimally attenuates signals between the satellites and ground stations.
Because of the sensitivity of the material inside the ground station, every station has a metal fence around it.
How Do Starlink Ground Stations Work?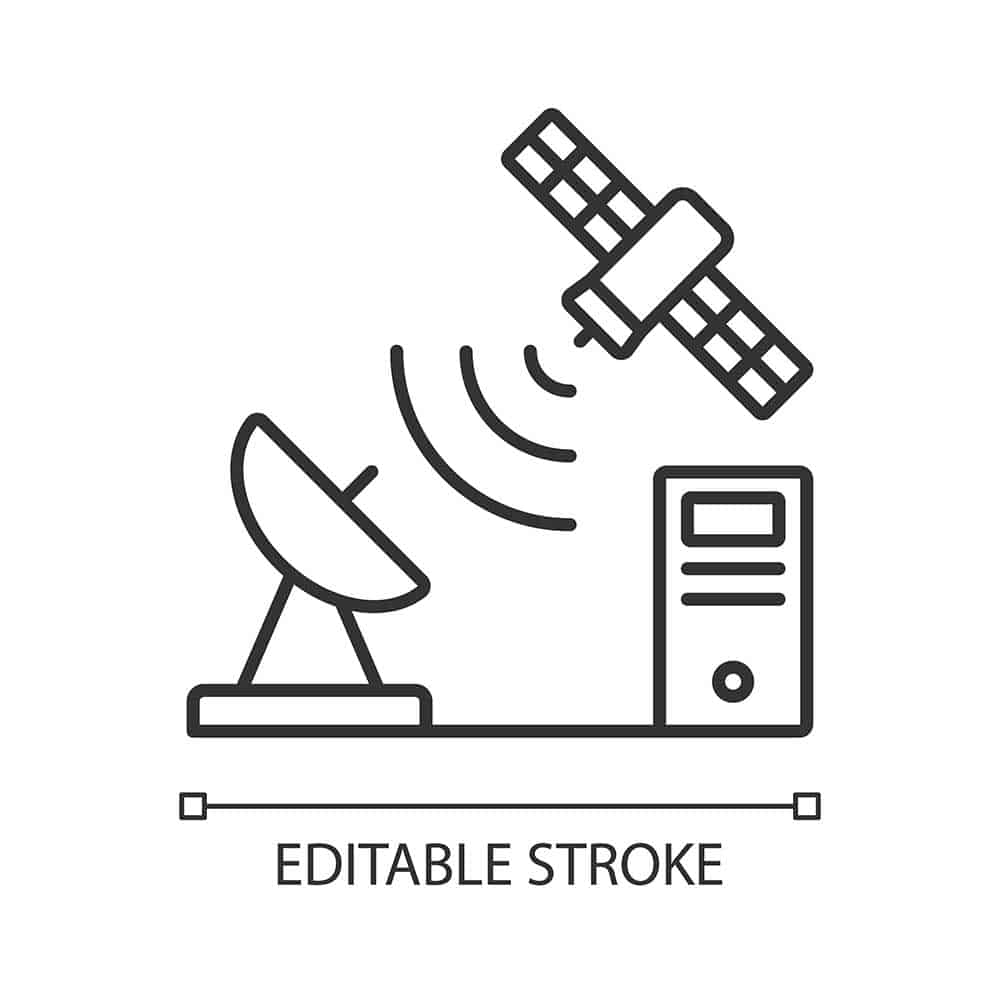 Concept of how a ground station works with satellites
A typical Starlink ground station receives KA-band signals from satellites.
However, the newly launched V2 satellites had upgraded E-band range frequency capabilities. 
When you request your device(e.g., a laptop or smartphone), the device connects to the most available satellite near you. 
The satellite will send your request to a ground station.
The ground station will relay the request through the internet connection to massive data centers.
The data centers resend the request to the ground station.
Finally, the ground station sends it back to a satellite which sends it back to your device. 
In seconds, data moves from you to a satellite through a Starlink ground station antenna back to you. 
Starlink Internet Ground Station Locations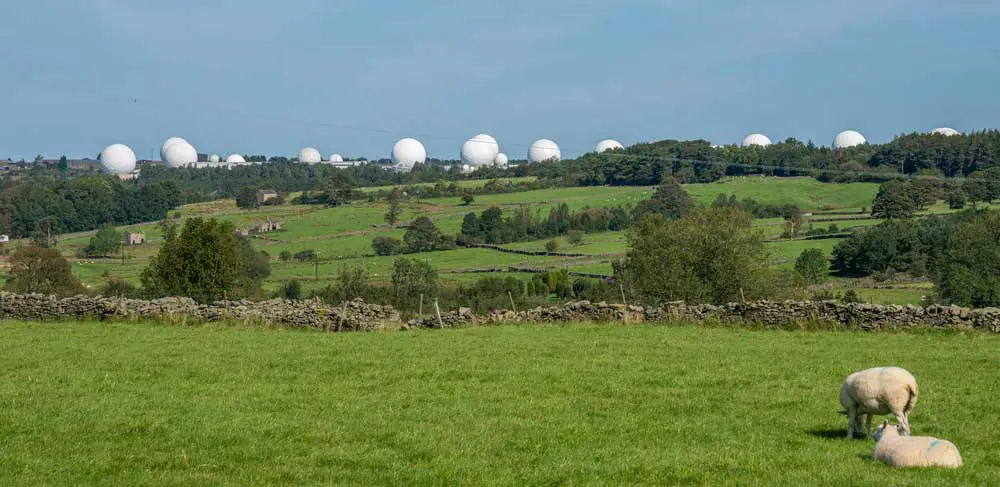 Ground station radomes in the UK
There are about 147 active/live Starlink Internet ground station locations. More than 20% (32) are in the United States. 
Here's a list of all the completed live gateways in the US alone.
Boca Chica, Dumas, Hamshire, McGregor, Sanderson, New Braunfels, and Hillsboro in Texas
Bellingham, Brewster, Kalama, Prosser and Redmond in Washington
Fairbanks, Ketchikan, Kuparuk and Nome in Alaska 
Rolette, Cass County, and Slope County in North Dakota
Robbins, Tionesta, and Hawthorne in California 
Fort Lauderdale, Punta Gorda, and Kenansville in Florida
Butte and Conrad in Montana 
Mandale and Wise in North Carolina
Hillman and Manistique in Michigan
Hitterdal and Marcell in Minnesota
Inman and Lawrence in Kansas 
Baxley and Norcross in Georgia
Beekmantown and Lockport in New York
Anchorage, Arkansas
Broadview, Illinois
Charleston, Oregon
Colburn, Idaho
Elbert, Colorado
Evanston, Wyoming 
Frederick, Maryland 
Gaffney, South Carolina 
Greenville, Pennsylvania
Litchfield, Connecticut
Loring, Maine
Lunenberg, Vermont
Merrillan, Wisconsin 
Molokai, Hawaii 
Mt Ayr, Indiana 
Nemaha, Nebraska
Panaca, Nevada 
Robertsdale, Alabama 
Roll, Arizona
Springer, Oklahoma 
Sullivan, Maine 
Tracy City, Tennessee 
Vernon, Utah 
Warren, Missouri
Europe has 17 live gateways. They are located in the following areas:
The United Kingdom(3)
Spain(3)
Italy(3)
Ireland(2)
Germany(2)
Portugal(1)
Poland(1)
Norway(1)
France(1)
Australia hosts 16 ground stations, with the other 7 in Oceania in Fiji and New Zealand.
South America has 12 live gateways in Brazil, 7 in Chile, and 1 in Curacao.
The Middle East's 2 live ground stations are in Oman and Turkey, while Africa's two live ground stations are in Nigeria. 
Asia has 5 live Starlink ground stations.
One is in the Philippines, while the rest are in Japan. 
North America's gateways outside the US are Mexico(10) and Canada(4).
The Dominican Republic holds one live ground station, while Puerto Rico has two. 
Future Plans For Starlink Ground Stations
Starlink still plans to launch more satellites into space and build more ground stations. 
In January 2021, Space X launched V2 satellites in a polar orbit to service Alaska. The laster-enable satellites eliminated the need for ground stations for the internet in Alaska. 
Reportedly, more infrastructure would translate to higher speed, reduced latency, and clearer signals for the user. 
For context, users closer to ground stations receive clearer signals faster. Towns in major US cities such as California, Washington, and Atlanta have ground stations already in construction. 
That means Starlink can also extend service to people in major cities and towns to compete with other internet service providers.
Additionally, more gateways mean Starlink can keep onboarding more subscribers and increasing capacity.  
You can use this user-generated map to know ground location sites, construction and completion status. 
Will Starlink Replace Internet Ground Stations?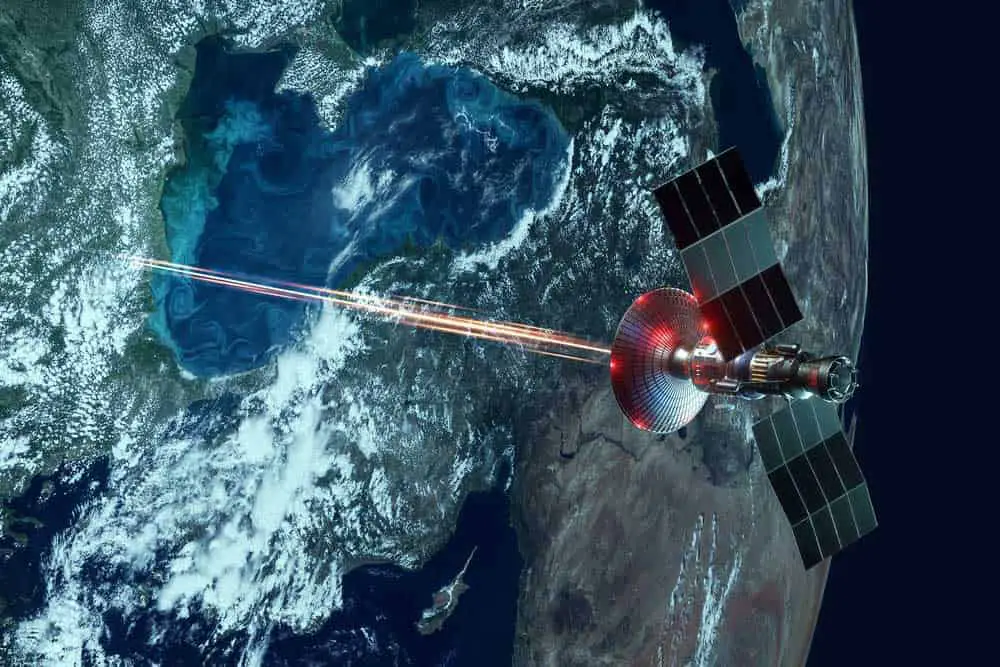 A satellite with laser beams 
Space X has been teeming with good news regarding its satellites and ground stations.
Starlink subscribers can look forward to a Google and Space X collaboration. 
Space X announced plans to establish Starlink ground stations at Google's data centers. 
Collaboration would greatly boost data access and speed across the Starlink network. 
Still, Space X is exploring the possibility of gradually reducing Starlink ground stations.
Space X will replace the ground stations when it upgrades its satellites from V1 to V2. V2 satellites will be capable of laser communication. 
While it may not be immediate, newer ground stations will be equipped with E-band frequency capability if Space X's request to the FCC gets approval. 
Laser technology will ensure each satellite can use precision laser signals to communicate with each other and your dish. 
It can be cited as a move towards cutting operating costs. However, all indications point to faster speed and increased accuracy. 
Final Thoughts
Space X's progress in improving the state of the global internet is exciting. 
Building more ground stations and upgrading past systems is a testament to the company's initial pledge to provide fast and reliable internet. 
With more ground stations completed, Space X can be a global internet provider with the fastest speeds and least latency.