If you've questioned the reliability of NBN in Australia, Starlink vs. NBN should be an exciting comparison for you. 
State-backed NBN has had a chequered relationship with its subscribers. While it is affordable, its speeds and latency are sometimes painfully slow.
With Starlink's entrance into Australia, NBN will undoubtedly face stiff competition. Both are satellite providers, but NBN has wired-connection options. 
Can Starlink edge out NBN as the preferred internet provider in Australia? Let's put them side to side. 
Table of Contents
NBN Background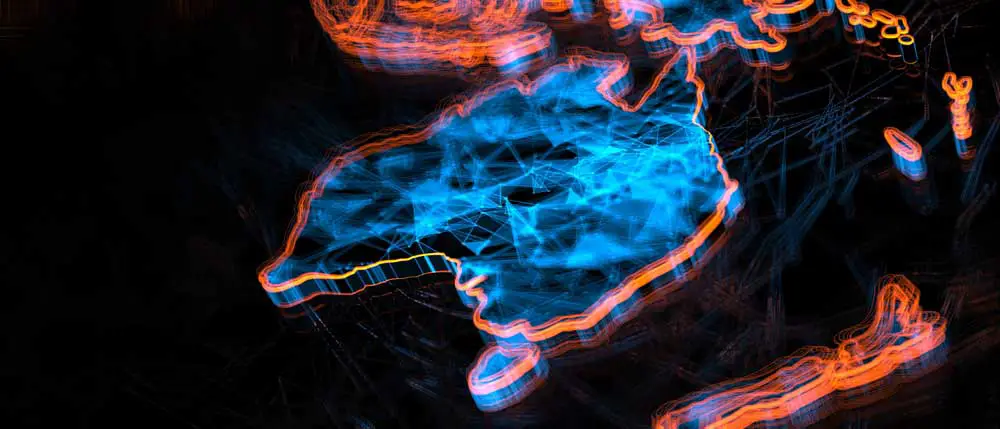 Internet concept in Australia
Did you know NBN was somewhat of an election promise in 2007? 
The Australian made good on its word and delivered the project. The plan was to cover over 90% of the Australian population. 
The government planned to achieve this goal using Fiber to The Premises infrastructure, fixed wireless and satellite technology. 
Currently, NBN combines these technologies to serve most of the country.
The satellite infrastructure serves people in remote areas, whereas the wired networks serve people in metropolitan areas. 
Starlink In Australia Background
Space X's Starlink is an ambitious global project meant to provide internet to people without access to reliable high-speed, low-latency internet.
It uses thousands of satellites in space and hundreds of ground stations to provide wireless internet. 
Starlink went live in Australia in 2021. Since then, it has grown its presence from two cities to larger areas of Australia.
And with the prospect of launching more satellites into low earth orbit could bring serious competition to NBN. 
Starlink Vs. NBN Plans
Starlink's main plans are easy to understand and subscribe to.
The main plan is Starlink Residential which serves people in their registered residential homes. This plan comes with a portability option that Australian subscribers can explore. This plan would work great since Starlink is available in most parts of Aussie. 
Other plans include Starlink RV, Starlink Business, and Starlink Maritime.
There is a Starlink Best Effort Service for subscribers on the waiting list. It gives deprioritized service where you enjoy regular speeds at off-peak hours and slower service during busy hours. 
On the other hand, NBN has tiered plans that provide different capped rates for peak and off-peak hours. It has two main plans to compete with Starlink based on location. 
NBN provides internet through a host of other providers. Therefore, you will find multiple sub-plans under Sky Muster and Sky Muster Plus. 
The Sky Muster plan delivers satellite internet in remote areas, while the Sky Muster Plus plan offers uncapped cabled internet to busy areas with the necessary infrastructure. 
Sky Muster Basic Evening Speed Plan
Under Sky Muster, subscribers get a 30-day or annual contract with a free setup. 
Here, subscribers with the Basic Evening Speed data plan get data packs as low as 60 Gb to as high as  240 GB.
However, these packs are sectioned such that a chunk of all your data traffic is metered. 
For instance, the 215 GB pack has a 75 GB peak-hour data cap than 140 GB is set aside for off-peak hours. 
Alternatively, you can get the 215 GB pack with 90 GB peak-hour data and 125 GB off-peak data.
These packs range between $34.95 monthly to $119.85 monthly for the 240 GB pack. 
Sky Muster Standard Evening Speed Plan
Subscribers who want faster speeds can switch to the Standard Evening Speed plan. For $39.95 monthly, they get a 60 GB data pack with 20 GB peak-hour data and 40 GB off-peak data. 
Premium subscribers under the $154 monthly 250 GB plan get 110 GB peak-hours data and 140 GB off-peak data. 
Starlink Vs. NBN Cost
Compared to NBN, Starlink is still an affordable service in Australia.
For low-latency access, Starlink subscribers will pay a $924 setup and a $115 shipping fee. Additionally, they would pay $139 for uncapped data. 
However, Starlink has a limited discounted starter equipment rate of $450 plus free shipping. 
Starlink Business in Australia would attract $3740 in equipment and a $155 shipping fee. The monthly fee would top out at $374.
Yet, as high as those fees look, subscribers would get a 30-day freebie trial with no termination charges. 
The closest NBN price comparison to Starlink is Sky Muster Plus's partially capped data plans. These plans offer the same data packs as Sky Muster but with only VPN and video streaming metered.
For $69.95 monthly, Sky Muster Plus subscribers get a 25 GB capped VPN and video streaming during peak hours. 
There are plans that cost $74.95, $99.95, $139.95, and $174.95 monthly. Each of these plans has metered VPN and video traffic during peak hours. 
The $199.95 monthly plan gives users 150 GB of metered traffic during peak hours. 
Starlink Vs. NBN Satellite Infrastructure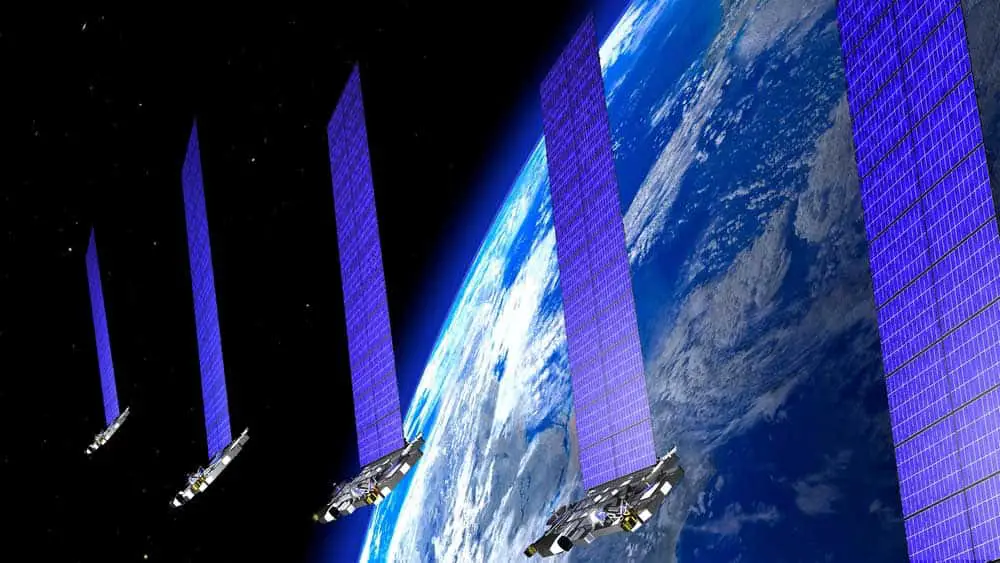 Satellites in orbit 
The satellite infrastructural difference between Starlink Australia and NBN makes a huge difference in speed and latency. 
For starters, NBN has two huge satellites way deeper into space. These Geostationary (GEO)satellites are approximately 30,000-40,000 kilometers above Earth.
The net effect of this distance is that it takes data more time to reach Earth. Therefore, users experience more lag and less speed.
However, NBN subscribers in busy towns enjoy other internet disbursement technologies, including FTTP, FTTN, Fiber to the curb, and fixed wireless.
Typically, these are wired technologies that guarantee faster speeds. 
On the other hand, Starlink has over 4200 small satellites globally in low-earth orbit(between 500km and 2000km from Earth). Multiple satellites in low-earth orbit can only mean one thing, less lag. 
The possibility of getting fast speeds and less delay is why NBN could lose subscribers to Starlink in Australia. 
Starlink's plan to release up to 30,000 minimally-reflective satellites into LEO could be a huge blow for NBN, especially in remote areas.
Less latency means subscribers can enjoy faster, lag-free internet on mobile or computer anywhere in Australia. 
Starlink Vs. NBN Speed
Fiber to the Curb fast internet
Starlink's advertised speeds are nothing to scoff at. At between 20 and 100 Mbps download and 10-20 Mbps upload speeds, Starlink could be Australia's preferred satellite internet provider in rural areas.
And that's just for Starlink Residential plan.
Starlink Business subscribers experience between 50-220 Mbps download and 10-30 Mbps upload speeds. 
NBN's satellite speeds don't match up to Starlink's. 
Due to satellite positioning, NBN speeds top out at 25 Mbps download and 5 Mbps upload. However, NBN's fixed wireless speeds are much faster. 
According to the Australian Competition and Consumer Commission (ACCC), users were getting at least 60 Mbps on the Premium Evening plan and less than 15 Mbps on the Basic Evening plan. 
The ACCC report showed much higher speed from NBN fixed line infrastructure internet. The speeds average 726 Mbps download and 45.9 Mbps upload during busy hours. 
Starlink Vs. NBN Latency
If all other factors remained the same and latency was the decider. Starlink would come out shining against NBN. 
Starlink promises 25-50ms latency on all their plans. Of course, some users experience shorter latency when the network isn't bogged down by connections.
Peak hours get more lag, though. 
NBN satellite has frustratingly high latency. A 600 ms latency is terrible for online gaming and real-time video streams that need zero lag. 
Still, the ACCC report did show low latency and fast page-loading times from different NBN fixed-line internet service retailers. 
The lowest was Superloop at 8.8ms, while the highest was MyRepublic at 24.1ms. 
Conclusion: Is NBN Satellite Better Than Starlink In Australia?
NBN in Australia is a locally-grown national project. It has a long history of reliability and good customer service. 
However, it would be better if the data caps were removed and the plans were consolidated into something easier to understand. 
Starlink already has over 1 million active subscribers.
With more satellites in space, it could overtake NBN as the most preferred service for important services in remote areas. 
Still, NBN will likely retain big city subscribers because of its fixed-line high speeds and low latency.