Starlink router settings are one of the biggest dilemmas many faces in the satellite industry.
The Starlink router lets you connect your home network to the internet and manage it easily.
However, for it to work properly, you need to configure it to meet your needs.
Thankfully, following our simple step-by-step guide lets you set up your Starlink router without the hustle. 
Table of Contents
What is a Starlink Router?
Starlink router enables you to manage your home network with ease.
It enables several devices in your network to share internet connections, files, and printers.
The device also offers network protection against unauthorized access thanks to its reliable security features.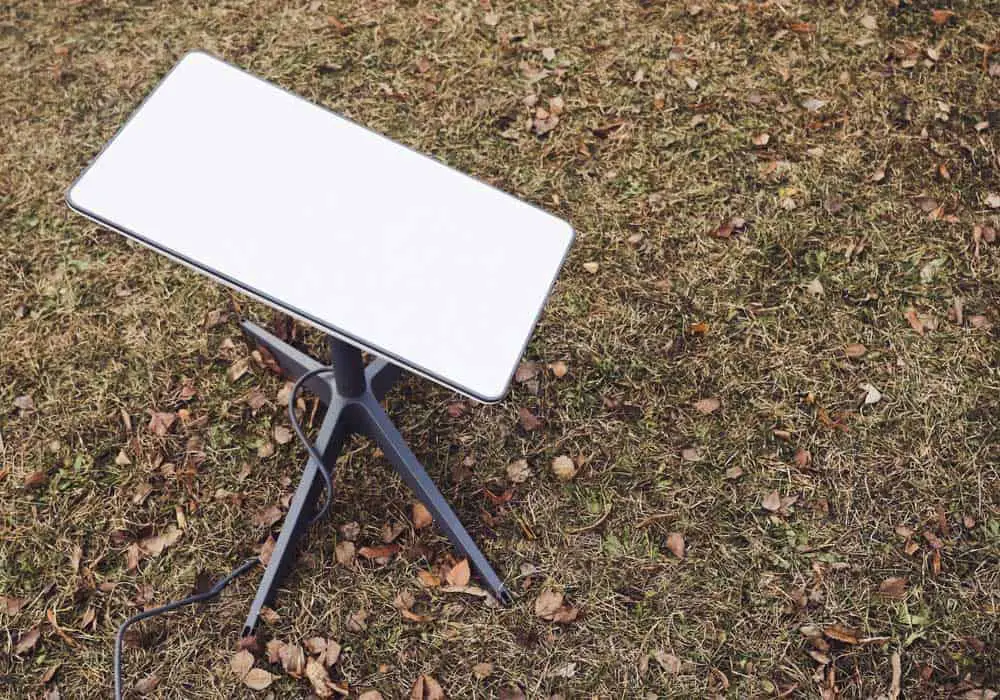 Starlink space signal receiver
Types of Starlink Routers
There are two types of Starlink routers, including wired and wireless routers.
The difference is obvious as wired routers require a wire, ethernet cable to be specific, for connection.
A wireless router does not require a wire for connection.
A wired connection is simple but not as flexible and advanced as a wireless connection. However, it is more secure.
Pros and Cons of Starlink Routers
Starlink Pros
It is easy to use for managing your home network
Offer security features to protect your home network from unauthorized access.
Offer various customization options to tailor your home network to your needs.
The Starlink Cons
Starlink routers may be expensive
It can be not easy to set up, especially the wireless connection one
It may not work with every type of home network
Starlink Router Settings
You can access Starlink router settings by logging in via their app or web browser. Like any other internet router, you should use preset credentials.
Thankfully, Starlink uses a proprietary router to prevent other people who connect to the network from tweaking the settings. 
Using the Starlink App
Starlink routers have Android and iOS apps through which you can access. It is always the most preferred method as it is easy to use. 
Before you open the Starlink app, remember to connect to a network, preferably a wireless network.
Also, ensure you log into your Starlink account, then proceed as follows. 
If you've installed the Starlink app, go to the app store and install it. 
Click on the app to open it. You will get important info here, including Starlink status, settings, network devices, and statistics. Starlink status should indicate that it is online.
Tap on the setting option, leading you to a router setting with the tab name, Wi-Fi configuration. You can opt for an advanced setting option if that is what you need.
Using Web Browser
A web browser is a great way to access Starlink settings if you don't have a Starlink app.
A laptop or tablet must be connected to your Stralink router through Ethernet or WiFi.
In most cases, residential customers use Starlik Router UTR-201.
With that in place, follow these simple steps to access Starlink router settings using any browser. 
Open your chosen web browser on your website.
Type in the IP address 192.168.1.1 on the address bar to access your Starlink router admin portal. 
Login using the Starlink router's SSID and password. 
Check the serial number (S/N) printed on the back of the router, and that is your router name or SSID.
Starlink also sets the password. 
Starlink Router Problem and How to Fix It
When using Starlink routers, there is a possibility that you may encounter problems.
Fortunately, the most common problem with routers is easy to fix. 
The Router is Not Working
One obvious problem you may face is your Starlink router failing to work.
To fix this, you must power cycle the modem and the router.
Simply unplug the devices from the power source and let them stay off the power for 30 minutes.
Plug them back, and once they are on, wait to see if the problem is fixed. 
'The Internet is Not Working
Apart from the devices, the problem may come with the internet.
Internet failure may result from an improper modem connection to the Starlink router.
You can fix them by unplugging and then plugging back the ethernet cable from the modem.
Ensure this time that you plug it all the way.
Starlink Routers Settings: FAQ
Is Starlink Router Resistant of Weather?
Starlink router is resistant to limited dust and mild water, with a rating of IP54.
That said, they are appropriate for indoor use. 
Does Starlink Offer Static IP Addresses?
Starlink offers static Ip addresses, but it is only available for business tier subscribers.
For Residential and other tiers, you cannot access static IP addresses.
Starlink Router Setting: Final Verdict
Starlink routers are very useful in your home network management.
With this device, you can share a lot across your devices and secure your home network.
However, sometimes configuring it to meet your home network needs may be challenging.
Hopefully, our step-by-step guide on how to set up your Starlink router will help you get the best out of your Starlink router.