Starlink vs. Spectrum is an ISP comparison that should excite anyone that relies on high-speed, low-latency internet. 
Spectrum is a legacy fast and reliable cable internet provider. However, Starlink is catching up speedily.
Although Starlink targets people in remote areas using satellites, it could soon gather momentum to rival Spectrum in mainstream use. 
Currently, Spectrum provides three stable plans. It provides 300Mbps for just under $50. Starlink's entry-level plan retails at $110 for 100Mbps. 
Will Starlink catch up?
Should you stick to Spectrum's fast and affordable data plans? 
Let's size up both providers and help you make that important call. 
Table of Contents
What Is Spectrum?
Cable Internet in an Urban Setting
Spectrum is a reputable internet, cable TV,  and phone service provider.
It has a countrywide presence in the US, despite losing almost 700,000 subscribers in 2022.
Initially, it was known as Charter Communications. That is until the 2016 Time Warner Brothers and Charter Communications merger. 
Before merging with TWB, Charter Communications had been in operation since 1999. 
Their impressive product range covers internet and broadband, cable and HD TV, digital mobile and VoIP phone, and home and internet security. 
With all these offerings and legacy status, how does Spectrum stack against satellite 'newcomer' Starlink?
Starlink vs. Spectrum: Side-by-Side Comparison
Despite their different delivery methods, you can decide if Spectrum is better than Starlink or vice versa based on technical differences.
The most vital factors to consider include latency, availability, speed, customer service reliability, cost, and equipment. 
Starlink Vs. Spectrum Equipment
Based on equipment alone, there's a huge difference in what to expect from Spectrum Vs. Starlink. 
While Starlink uses CGNAT-enabled routers and satellite receiver dishes, Spectrum uses a hybrid fiber-coaxial system with set-top boxes, routers, and modems. 
You will likely deal only with routers and modems if you use Spectrum Internet.
However, if you throw in every other available service they offer, such as TV, you're looking at set-top boxes too. 
Starlink satellite dishes are important in this comparison since they are affected by issues such as mounting and weather conditions like snow and wind. 
Starlink Vs. Spectrum Coverage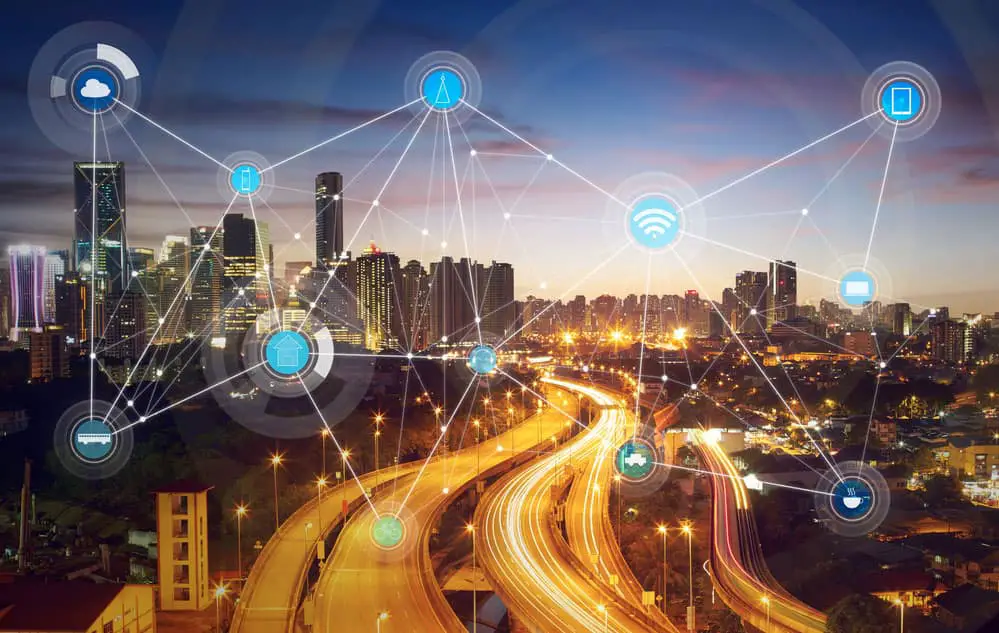 Fast Internet in a vibrant city
As a veteran in the ISP field, it's no surprise that Spectrum has a countrywide coverage of the US.
Its broadband subscriber numbers exceed 30.4 million as of Q4 of 2021. Spectrum Mobile boasts over 5.3 million subscribers. 
You can attribute Spectrum's widespread coverage to the target demographic.
Most subscribers live in urban and suburban settings where high-speed internet is accessible. 
Note: Spectrum is only available in 41 states across the US.
On the other hand, Starlink is targeted toward the demographic that lives in remote locations.
Starlink managed an impressive feat, bagging over 1 million subscribers.
Additionally, they have a huge waiting list in the hundreds of thousands across the globe. 
Starlink's numbers can only increase with plans to add more satellites. 
Starlink Vs. Spectrum Speed
Spectrum objectively performs better than Starlink on speed.
While Starlink users report download speeds of up to 100Mbps on the basic plan, Spectrum users get up to 300Mbps.
Starlink Business users enjoy up to 500Mbps, while subscribers in the higher-tier Spectrum Gig plan get up to 940Mbps. 
Starlink users get upload speeds of 5-25Mbps, while Spectrum users get between 10 and 35Mbps. 
Starlink hopes to improve the speed when they launch more satellites into low-earth orbit. 
Starlink Internet vs. Spectrum Latency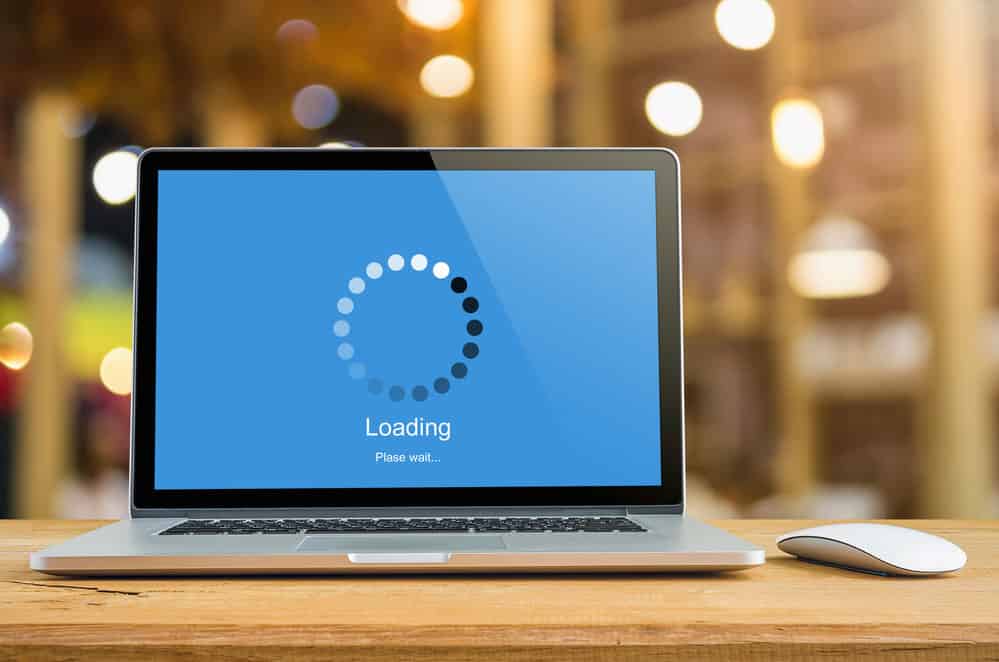 Computer screen showing delayed transmission
Latency is the delay period between a transmission request and data delivery.
It affects your choice of ISP and how you use the internet.
The goal is for a low-latency ISP to offer or enjoy services such as online gaming or server hosting. 
Spectrum Internet offers a latency of between 20 and 30ms against Starlink's 40-70ms. 
Space X CEO, Elon Musk, says the company is committed to establishing more ground stations to push Starlink's latency below 20ms. 
Starlink Vs. Spectrum Cost
With the speed, latency, and coverage information above, the cost difference between both ISPs can help you settle on one provider. 
Starlink charges slightly below $100 for its standard plan, while Spectrum's monthly charges start from $49.99.
Heavy users under Spectrum's Gig plan pay $115 monthly compared to Starlink Business' $500. 
Aside from monthly costs, you also must pay for equipment. 
Starlink's equipment costs range from $599-$2500, while you'd have to pay an additional $5 for Wi-Fi service. 
Starlink Vs. Spectrum Installation
Starlink's installation might be easier than Spectrums.
Starlink comes with a kit that you can mount where receiving a signal is easy. 
Conversely, you might need professional installation to set up your Spectrum kit.
For that, Spectrum charges you $59.99 for professional installation or a $19.99 'self-installation' fee. 
Starlink Vs. Spectrum Customer Service
If you're an internet user, you know outages are part of the package.
To that end, customer service and efficiency are notable considerations when choosing a plan. 
Spectrum users have reported mixed reception from the ISP's customer service department.
What we can tell you, though, is Spectrum has a 24/7 open channel for customer handling.
They have different numbers, including a toll-free number.
Spectrum Business subscribers have a different number to air their complaints. 
Response time varies according to location, specific query, and personal experience. 
If you find Spectrum customer service frustrating, Starlink customer service might infuriate you.
Starlink does not provide avenues to contact customer service immediately.
However, you can submit a complaints ticket through the Starlink website or phone. 
Starlink vs. Spectrum: Which Is Best?
As it stands, Spectrum Internet is the most logical choice if you are in an area where it's available.
It fulfills the holy grail of most ISPs; speed, low latency, and reasonable cost. Starlink is better in remote locations and outside the U.S. 
However, Starlink has yet to show its full potential.
With its focus on adding ground stations and satellites, it might become a mainstream internet provider and a worthy competitor. 
We can compare Starlink Internet vs. Spectrum using use cases.
| | | |
| --- | --- | --- |
| Use | Spectrum | Starlink |
| Server Management | Fast upload speeds make Spectrum a better choice for Server management | |
| Online Gaming | Online gaming requires low latency. Spectrum is a better option for online gaming. | |
| Home Internet | If you live in an urban setting in any of the 41 states where Spectrum is available, use Spectrum for your basic home plan.  | Starlink is a better option in the remaining nine states that Spectrum doesn't cover. Also, it's a better option in remote areas.  |
| Office use | Spectrum has more coverage for a company with a countrywide presence. Also, it offers higher speeds for its enterprise clients.  | Use Starlink for your overseas territories and remote sites. It is available in 32 countries, including Nigeria and Australia.  |
| Remote work | Use Spectrum if your work in an urban area requires video conferencing and uploading huge files.  | Starlink might be a better option if you travel a lot in a remote area.  |
Starlink Vs. Spectrum Concerns
Data caps
Starlink users may receive only 1TB of data monthly per the Fair Use policy.
Going over the data cap attracts a $0.25/GB charge.
For big data consumers, this limitation may be off-putting.
Starlink insists this move is supposed to guarantee there's no network congestion. 
The move is currently on hold, pending a decision from Space X. 
Conversely, Spectrum has stepped back on its position to end its deal with FCC to impose data caps for its users.
Spectrum had a history of data cap imposition when they tried it in 2021.
They have yet to decide on May 2023. 
Final Thoughts
Should you pick cable or satellite as your ISP? Is it Starlink or Spectrum?
Compared to fiber, Spectrum might be the second best option.
However, in a Starlink vs. Spectrum internet comparison, Spectrum takes the day.
Find out whether you are in a covered area before you choose.