Is Starlink available in my area, and how do I find out?
As more people learn about Starlink and how it has become a game changer in the satellite industry, they constantly inquire if it is available within their location.
Starlink is still in its early stages of development and has not made wide coverage.
So, how do you know if it is available in your area? 
Table of Contents
Is Starlink Available in My Area?
Though it is fairly new, Starlink already has good coverage in the USA and some countries such as Canada, the UK, and New Zealand.
Though it may be available in your area, when you can start receiving their services depends on some factors.
These factors include the number of ground stations and satellites in orbit and your current subscriber account within your location. 
Global internet service concept
How to Check for Starlink Availability
Check Via Their Website
Among the methods you can use to check the availability of Starlink in your area, checking on their website is the most common. 
Visit the website and type in your address.
Click on "Order Now" and check on the message that appears.
The message that appears will show you whether the service is available in your area or not.
If it is available, you will see a message notification like "Starlink Currently Available."
This means you can order with an upfront payment of around $599, shipping fees, and tax, depending on your location. 
However, it can show you the availability even when Starlink expects to expand its services to your area soon.
The message will be different from when it is fully available, but you can still make an order and wait for their services. 
For instance, receiving a message like, "Order Now to Reserve your Starlink," means the service will soon be available in your area.
You can make a Pre-order deposit and join the Starlink waitlist to receive the service when that time comes. 
The pre-order is only around $99. Once you order, the provider will offer you an estimate of when they are expecting to start offering services in your area.
Should there be a change in the schedule, you will get updated.
Remembering that you could cancel your order and get a refund would be best. 
Check Starlink Coverage Map
Another reliable method is checking the availability of your location on their map.
Starlink offers a comprehensive map showing the areas available for pre-order and full-order.
It is an interactive map that will direct you to your area once you type in your address on the map. 
Check the color on the Starlink availability map to find out if Starlink is available in your area – you can also see the country covered.
The green represents approved and activated areas, the blue represents activated, and the gray is unknown.
The map will also show you when the provider expects to be available in your area. 
What if I Don't Have an Address?
You can check for Starlink availability in your area even if you don't have an address or when your address fails to show up on their site.
You find the plus code of your location and use it to check Starlink availability.
The plus code latitudinal and longitudinal location of your address. 
Here is how you can locate your plus code and use it to determine Starlink availability.
Trace your location on your browser or phone Google Map and click it
Coordinate by clicking on the longitudes and latitudes at the bottom. 
The plus code of your location will appear. Depending on your location, an example of a plus code is JJXX+HR8 Seattle. 
Paste your plus code into the Starlink address search and check availability.
How Can I Get Starlink Immediately?
Starlink can be available in your area, but you may not be able to use it immediately, even if you can make the full order.
As mentioned before, being able to make an order and receive the service depends on certain factors.
These include ground stations, the number of satellites in orbit, and subscribers in your area.
If these factors favor you, you can get Starlink service in your area immediately once you can make a full order. 
Normally, pre-orders will put you on the waitlist until Starlink's capacity expands to cover your area.
However, the provider has developed a special Best-Effort plan that enables pre-order waitlist customers to get Starlink immediately. 
You can't request this plan.
If you are eligible, you will receive an email notification from Starlink.
Or you can check your account at starlink.com to see if you are eligible for this plan. 
Starlink Tiers
Starlink offers three tiers depending on where you want to use it.
These include the Residential, RV(Roam), and Business tiers.
Residential is for home use, roaming is for RV use while on the go, and the business plan is for commercial use.
Residential and Business Plans are not different except for speed and application.
However, an RV plan may have some unique requirements considering its application. 
The main downside of the RV plan is its relatively slow speed.
Besides, it is more expensive, and you cannot convert it into a regular residential Starlink.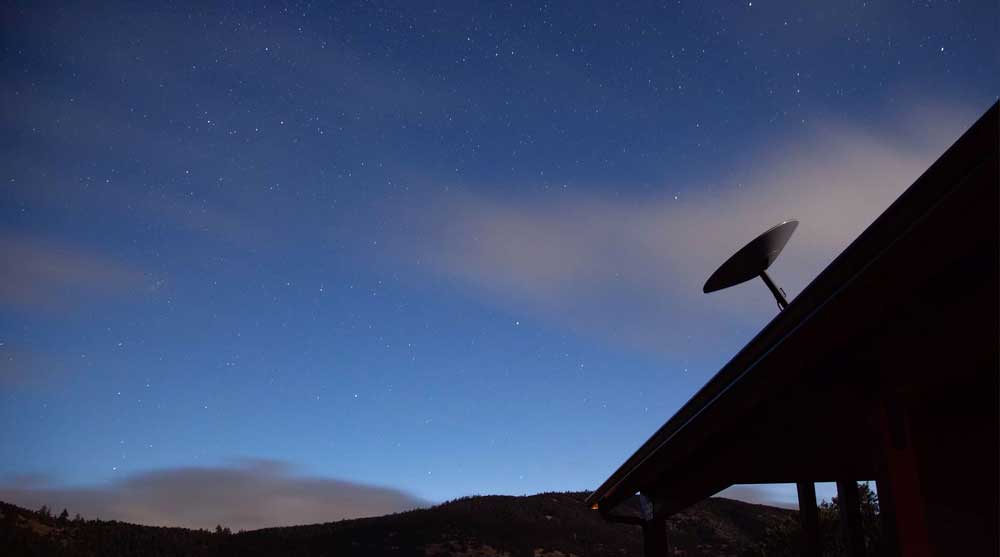 Starlink dish on residential roof
Is Starlink Available in My Area? FAQ
Where is Starlink Available?
Starlink is now available in most parts of the US, especially the states that border Canada, such as Washington and Michigan.
The developers focused a lot on these regions during the beta testing of the provider, so they received it earlier.
However, it is also available internationally in some parts of Europe and Asia. 
How is Starlink Different From Traditional Satellites?
Starlink has a higher speed and is more stable than HughesNet and Viasat.
The download speed can go up to 350 Mbps compared to the traditional Starlink, which is 100 Mbps.
How Long Does the Starlink Waitlist Take?
It depends on your location, but expect to wait for at least 6 months unless you are eligible for their Best Effort Plan.
The provider will estimate when you can get their service in your area. 
The Final Thought
Starlink has made determining if they are available in your area easier.
You can check their website using our step-by-step guide or their comprehensive map coverage.
If they are available, but you cannot access the services immediately, we recommend a pre-order and joining the waitlist, which can take several months.
But as the provider expands their coverage, the waiting time continues to reduce.