Since its inception, the advantages of Starlink Internet have been visible to the now over 1.5 million subscribers in 2023.
Starlink is reshaping the internet provision landscape in previously unconnected areas with benefits such as:
Lightning-fast download and upload speeds
Reliable internet in remote areas
Portable internet in the sea, air, or on the road
Unlimited data with no data caps
High response time with low latency
It's not enough to say Starlink provides high-speed, low-latency internet. We look at 5 critical areas where the benefits of Starlink internet shine. 
Table of Contents
Is Starlink Better Than Fiber?
To fully grasp Starlink's advantages, we must look at a close rival, fiber internet. Why not just opt for fiber?
Fiber internet relies on optic cables wired into your residence. As such, you get incredibly fast speeds and low latency.
Ideally, it's the perfect service. Here is a comparison of the two based on key indicators. 
| | | |
| --- | --- | --- |
| | Fiber | Starlink internet |
| Average Download | About 1 Gbps | 100-200 Mbps for Starlink Residential |
| Average upload | About 1 Gbps | 5-20 Mbps |
| Latency | 14-20 ms | 20-50 ms |
| Cost | Average $70-100 | $110 minus $599 equipment cost |
| Reliability | Highly reliable | Mostly reliable |
| Availability | Available in urban and high-density metropolitan areas | Available in rural areas |
Clearly, Fiber Internet outperforms Starlink on most metrics. However, they are meant for different customers. And here's why. 
Starlink Internet Benefits
Global Coverage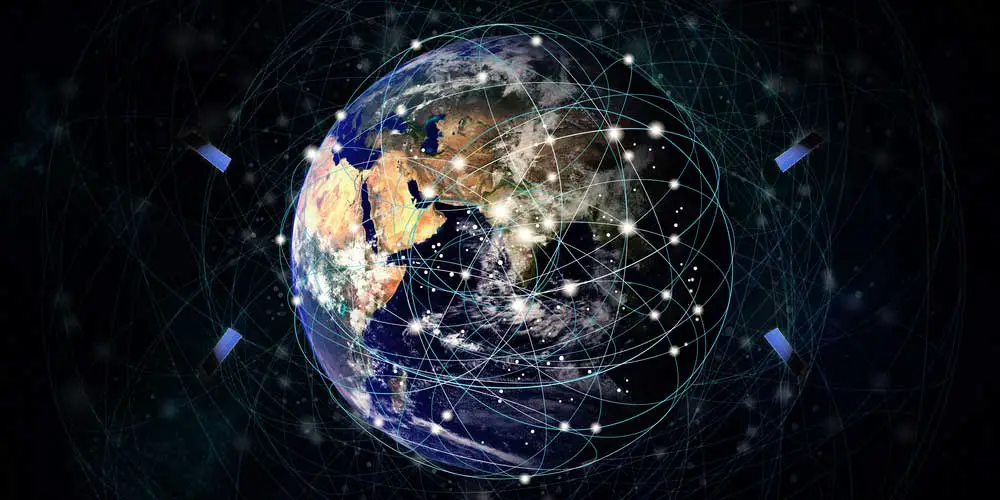 Representation of global satellite internet
Starlink is on course to become a global ISP. It has spread to more than 30 countries, including Nigeria and Kenya. It boasts more than 145 ground stations, most of which are in the US. 
Space X plans to total their low-earth orbit (LEO) satellite count to 42,000. 
42,000 active satellites in low earth means reliable service, enhanced portability, worldwide internet access, and minimal latency. 
Affordable Service
Paying $110 for reliable speeds and low latency in a low-density area is a bargain, mainly when you are used to paying a premium for slow service.
While Starlink has increased their Residential plan prices to $120 and $250 for Starlink Business, it is still a fair price for an efficient service. 
Diverse Plans
Whether you're in a rural area, on the road, at sea for prolonged periods, or constantly in the air on business, Starlink has a plan that suits you.
Starlink Maritime and Starlink Aviation are custom premium plans that cover a segment of subscribers that need to be online even on the move. 
Other plans include a roaming option (Starlink RV/ROAM). 
Easy DIY Installation
Unlike other services where you have to rely on technicians to install infrastructure before you get internet, Starlink Internet allows you to purchase the kit and set it up quickly.
You can get a professional to set up; however, the kit comes with a manual you can follow. 
Additionally, the service has a smartphone app where you can handle most matters about Starlink. 
Low Latency
While it doesn't rival fiber internet latency, it is a huge step up from the long latency experienced with other legacy satellite ISPs that operate with satellites higher up in orbit. 
Starlink's 20-40ms latency radically improves user experience for subscribers who rely on lag-free signal exchange.
 Gamers, real-time traders, and SaaS businesses reap huge benefits from reliable, low-latency Starlink Internet. 
High Download and Upload Speeds
Rural internet users complain about painfully poor service. That's until they start using Starlink internet. 
Going from low speed to between 50-100 Mbps download speed is a major benefit. 
Furthermore, they can upload files faster with the median Starlink upload speed of 8Mbps. 
Speeds can go up to 250 Mbps for Starlink Business, 220 Mbps for Maritime, and 250 Mbps for Aviation. 
For comparison, other service providers in the aviation internet business provide 10 Mbps. 
No Data Caps
Starlink lifted data capping for its subscriptions. However, users on the Best Effort Service still experience lower speeds when they hit their monthly quota. 
Still, the Residential, RV, maritime, and Aviation plans don't have any data caps. 
All the above benefits could provide practical advantages for the following industries. 
Health and Telemedicine. 

Doctor uses tech to monitor patient conditions
Telemedicine is a subset of health that deals with the delivery of healthcare services through e-technologies. 
Mobile apps, video calls, and wearable tech feature heavily in dispensing health services, especially in rural areas where Starlink is capitalizing. 
An FCC report states that 14.5 million Americans in rural areas don't have at least 25 Mbps(DL) broadband internet. 
Faster Starlink internet opens new routes in rural internet so communities can access faster healthcare with:
Apps such as Medisafe and Headspace for medication management and patient welfare.
Online platforms such as Teladoc to track convenient health services.
Remote monitoring for proper health record monitoring and management.
Video consultations such as Doxy. Me and Zoom to cut travel costs and time.
Education
Children without remote learning in a rural setting
Here's a not-so-fun fact. UNESCO tabled a report stating that 463 million children could not access remote learning. 
This was when the globe suffered mass activity shut down due to health precautions. 
With Starlink's 100 Mbps speeds and 20-50 ms latency, remote learning could become more mainstream than it is. 
Additionally, Starlink's DIY setup should be easy for educators and administrators to implement. 
To show commitment to a worthy cause, Starlink has already linked three communities in underserved areas with user terminals. 
Washington's Hoh Tribe, Ontario's Pikangikum First Nation, and Virginia's Wise County public schools are beneficiaries of Starlink to improve educational standards. 
Agriculture and Smart Farming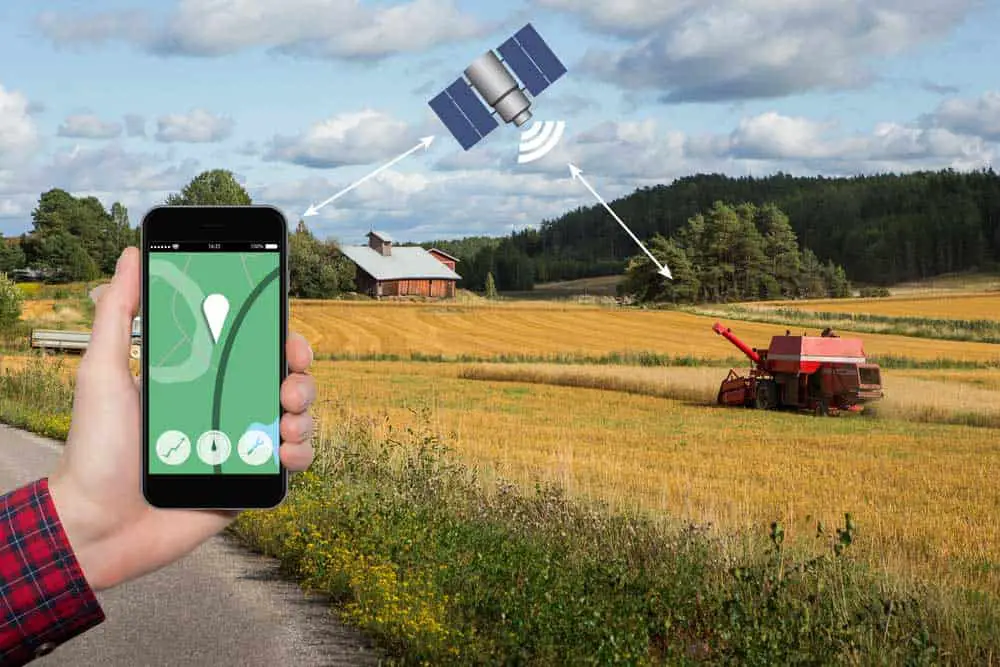 Using apps to manage to farm
With booming populations worldwide, there's a need to implement smart farming techniques to maximize food production with decreasing resources. 
Technologies such as AI, drones, robots, and cloud computing are critical to the success of increased food production goals. 
They'll help farmers reduce input and production costs and maximize output. 
In a 2021 report titled "Farm Computer Usage and Ownership," the USDA stated that 18% of  US farms don't have access to broadband internet. 
Here's how Starlink internet could be a critical pillar in reshaping farming in technologically marginalized areas. 
Farm automation using internet-driven robots, machines, and software can reduce time in tasks such as land preparation, planting, weeding, pest control, and harvesting. Improved productivity, reduced labor time, and enhanced accuracy could boost food production. 
Internet-powered sensors, cameras, and RFID tags could monitor livestock patterns in animal farms. This alone could prevent late detection of diseases, reduce losses, and improve food standards in livestock farms. 
Farmers can access shared platforms over fast Starlink internet to manage farm operations. They can also share inventory, finance, and logistic best practices through cloud computing. 
These cases are active in New Zealand and Australia, where Starlink has provided access. 
Conclusion
Starlink offers advantages to new areas left unseen by contemporary internet service providers common in bigger, busier cities. 
While it's yet to compete with fiber internet based on key markers, Starlink could be the catalyst in a shift in vital industries. 
Thanks to Starlink internet, food production, health services, and education could improve in rural and far-flung areas.