Do you need help with Starlink vs. OneWeb?
Many companies are increasingly introducing satellite-based internet services as the world becomes more interconnected.
However, these two providers have emerged as the top contenders in the race to make the Internet available worldwide; interesting, right?
Both services have their unique benefits, and it's good to have options to choose from.
By considering their differences, we can make an informed decision that will ensure speedy and reliable service.
Have you been struggling to navigate between the two satellite internet service providers?
If so, you have come to the right place! We are here to explain how they compare.
Table of Contents
What is Starlink?
Starlink is a SpaceX Sattelite-based internet service that provides fast and reliable connectivity in remote places.
It will facilitate worldwide coverage by deploying as many as 12,000 satellites in the lower earth orbit.
For that reason, the millimeter wave-based communication deployed by the company makes it possible for customers to enjoy faster download and upload speeds. 
In addition, Starlink has expressed its interest in fixing more satellites in the lower sky to enhance service quality.
This will enable the company to supply you with faster internet and lower latency.
A train of Starlink satellites
What is OneWeb?
Developed by OneWeb Ltd, OneWeb is an internet service that operates through satellite to provide an internet connection to remote areas.
It's got coverage worldwide and provides super-fast internet with no lag.
So, the company's satellites are in the lower orbit.
They utilize laser-based communication technology to enhance your smooth experience. 
Also, the company plans to add more satellites to its network in the next few years.
This will enable them to hook more places with a speedy and dependable network.
Slow internet sucks in this digital era, right?
But you have a reason to be happy because OneWeb is determined to improve your internet experience. 
Starlink vs. OneWeb: How do we Compare
We all love when there are various options in the market because we will get high-quality internet.
So, Starlink and OneWeb provide high-speed internet through satellite.
However, their methods and offerings are different.
If you value your time and money, this provides more options and is a good choice.
As a result, we'll look at both options side by side to make the best choice possible;
Starlink vs. OneWeb: Installation Process
First, it's important to grasp how uniquely they approach installation.
The two satellite-based internet providers compete to supply you with a flawless experience. 
The process of setting up OneWeb is fast and straightforward.
Before utilizing the company's signal, you must invest in the suggested satellite modem.
After fixing it at the right place, you can download the OneWeb app.
Connecting the modem to the router is the last step before you can use the internet. 
However, Starlink's set-up procedure is different from that of OneWeb.
You will need to purchase a Starlink kit which includes a satellite modem, router, and other components.
Afterward, you must follow the manufacturer's instructions precisely while setting up this kit.
If you are wondering how to do this alone, all the instructions are available in the manual guide.
So, once you get everything set up, download the Starlink app that will facilitate you to configure your modem and router.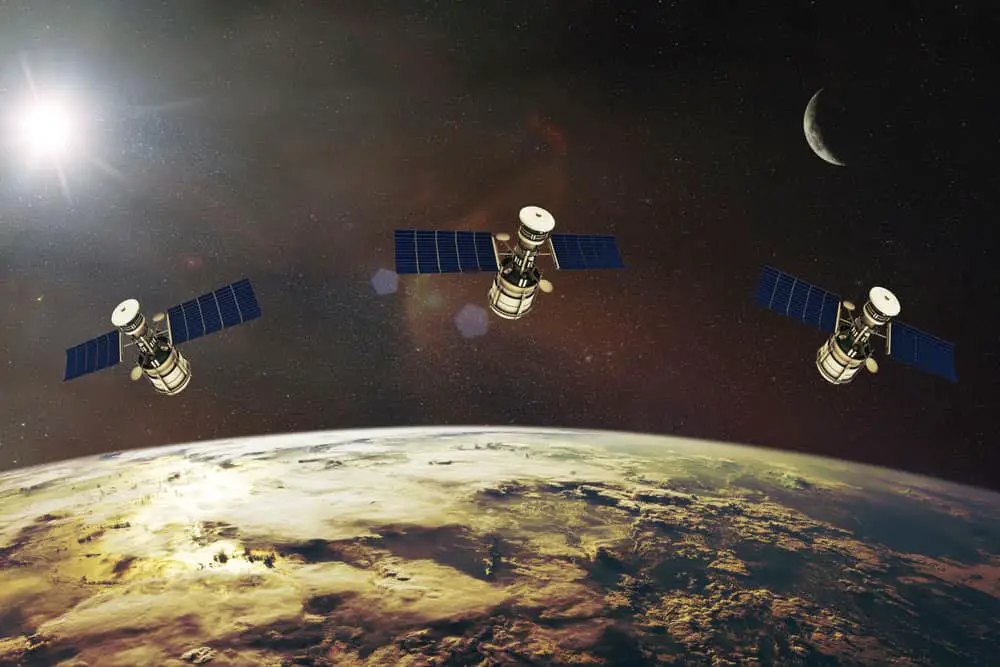 Low earth orbit satellites
Starlink vs. OneWeb: Having a Glance on The Coverage Area
With the space race heating up, it's interesting to see Starlink and OneWeb competing for worldwide internet access.
Each company has big plans here, but if you check out their reach, you will notice some variations. 
OneWeb has begun deploying its fleet of 648 satellites into low earth orbit.
This fleet will serve the whole world, excluding the poles, with a stable speed of up to 1.1 Gbps.
In addition, the company has an agreement with Intelsat to cover all marine areas.
On the other hand, Starlink is deploying a fleet of 12,000 satellites. Although coverage may be less than OneWeb's, it is still impressive. 
It's important to remember that the hardware and procedure required for installing OneWeb and Starlink are different.
However, both organizations prioritize making it easy for customers to access and use their online networks. 
OneWeb vs. Starlink Price
When comparing OneWeb vs. Starlink, you'll find a wide range of packages and costs for satellite internet. 
For the basic plan, pricing for OneWeb's customer plans starts at $50/month.
It goes up to $100/Month for the Pro plan and tops out at $150/month for the advanced option.
Thus, each subscription costs 50 Mbps, 100 Mbps, and 150 Mbps. 
Using Starlinks packages will give you similar services but at varying costs.
Prices for the most basic plan start at $99/month and come with an internet speed of up to 150 Mbps.
The middle-tier option is $199/month, getting you up to 300 Mbps speeds.
Finally, the priciest package begins from $499/month with speeds reaching 1Gbps. 
From the above analysis, we agree that both internet providers have all the packages and pricing that suit your home or business needs.
OneWeb is a better option if you need essential internet, but consider paying more for Starlink for faster speeds.
So, before settling on one of the providers, ensure you clearly understand the services you need. 
Starlink vs. OneWeb Speed
Let's begin with OneWeb, whose worldwide coverage provides super-fast internet without lag.
The company has deployed its satellites in low-earth orbit and utilizes lasers to keep everyone connected.
Pretty cool, huh? Also, OneWeb plans to add more satellites to its network in the next few years.
In contrast, the Starlink network of satellites uses a millimeter-wave-based transmission system.
So, they hook up to lightning-fast online services. 
Starlink vs. OneWeb: Final Word
A worldwide satellite network that links everyone is a goal shared by OneWeb and Starlink.
So, each satellite arrangement will expose the Earth at comparable wavelengths using similar scheduled array technology.
This brings the total number of satellites planned for deployment to 20,000.
But, with more SpaceX satellites, the number will reach 50,000. 
As of this writing, Starlink seems to be in the lead over OneWeb.
It boasts 360 satellites in low earth orbit vs. OneWeb's 74 out of a planned 648 satellites.